This is actually my first post on the forums but I did a lot in order to get to make this one!
I bought a 2003 TW200 (TW200R) on St. Patrick's Day, and it's my first motorbike, period.
It turned out that the bike had originally come from the local BMV's motorcycle classes! So it needed some love right off the bat, as you can imagine.
We (myself and a very kind friend who I could never have done any of this without!!) replaced the extremely stiff sport tire someone put on the front with a Shinko SR241 (as per many recommendations), and replaced the cracked and worn rear stock with a new stock TW34. We also swapped out the kinda-rusty chain for a DID 428x122 X-Ring chain, again at the recommendation of many others. We also got new rear brake shoes sort of as a precaution (EBC). Over the course of the mods we also did a clutch plate, spring, gasket replacement (EBC, Caltric) and an oil change (thanks to TDubsKid on Youtube for a great video on it - https://youtu.be/8OUHB9gDD40), plus a new spark plug (NGK). And we took the passenger pegs off because I kept missing the kickstand lol.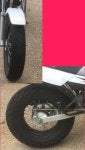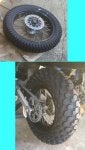 Now for the mod stuff.
I'm 5'2 and ~140lb on a good day, with a ~28-inch inseam MAYBE.
I went through some turmoil trying to find a bike that would get me through my first year and was originally shopping more for a Honda Grom (which was still a little too tall and can't really be lowered *at all* at just under 30 inches seat height. Also rather more expensive.)
I sat on a stock 2018 TW200 while shopping for bikes and I knew the TW200 was going to be too tall when I bought it (tiptoeing one side even in my tallest boots wasn't giving me any confidence, and as you all know it's just a 31.1-inch seat height) but I already had a plan thanks to these forums!
So after replacing the tires, which added even more height and was giving me toe cramps just to sit on, I decided to do the V-Star Shock Mod, and used the video here (https://youtu.be/eeZMKe_Z7us) to do it in less than an hour.
I bought a same-era, '05 V-Star 1100 shock on eBay. We used three M12 washers on the bottom mount because we weren't happy with one on each side and the shock is a little offset toward the right in the top mount anyway, so we put two on the left and one on the right. We did undo the gas tank and module for clearance installing the top like in the video, and we also popped the front of the plastics off the sides which made it easier.
"Does the V-Star Mod compromise clearance that much?"
you might have asked, like I did.
Yes
it does, lol. I won't be doing any big bumps or jumping off of anything without bottoming out, but I wasn't planning on doing that much in the first place. However, it made such a huge difference for my comfort level and feeling like it wasn't going to get away from me or fall over. My friend is an average-build 6'1 and it's a bit too squishy and low for him now.
We also lowered the forks nearly two inches! That's a LOT, no doubt, and more than I've seen anyone else lower them over my research, but that was what felt the most right after the shock mod to us.
Then we cut down the kickstand down about two inches(-ish) as well, since the mods make the bike stand up straight on the kickstand afterward.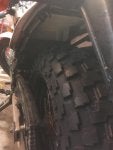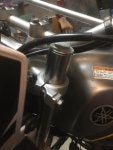 (That's a TDR-alike project back there looming behind my TDub)
I did buy extra seat foam so I could shave some off the seat but we haven't needed to do that. I might do a gel insert down the road to see if that gives me just a little more comfort. Interestingly, seat foam was *almost* going to be my most expensive part because I couldn't find anyone selling just foam and the Seat Concepts one was going to be a ridiculous purchase if I just wanted to cut it down. Apparently TW200s have always had the same seat?, which it took more research than I expected just to find out. Anyway I got some 2018 foam and cover on eBay.
The last thing I need is fork boots, really.
Start to finish, the maintenance and mods took only a couple Saturdays (about 10 hours) once the parts came in. I haven't measured the final seat height but I'll update when I do!
Update 4/3:
Final seat height measured at ~29 inches resting (without any seat foam mods) and probably dips down close to 28 when I'm sitting on it. Riding it feels great!
One thing I wanted to do was make sure that I could return the whole bike to stock or better.
As I gain more confidence riding and/or my purpose for the bike leans more dirt I might want to bring it back up to stock height again, after all. I shopped for all the parts myself and did a lot of research and learned a ton, using all the different forums and watching videos and staring down OEM parts lists and manuals, and my friend was kind enough to check my homework and walk me through all the things I could help with. Really looking forward to learning to ride on this bike and a thousand thanks to these forums for being a wealth of information.