The TW200 was first introduced in the U.S. in 1987. This model year has been reported to have a failure prone CDI unit and a unique one year-only electrical system.
I recently acquired my third 1987 TW200 and wondered which of them was the oldest. I then thought it might be fun to see which forum member has the earliest bike, approximately how many bikes were distributed that first year, how many have experienced CDI problems, and what is the current condition of these original bikes.
Serial#
-
Forum Member
-
Model
-
CDI Problems?
-
Status
00281 - TW-Brian - California Bike - No - Parts Bike - Being cannibalized for parts
00360 - TW-Brian - California Bike - No - Stock (Sold)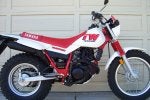 01126 - TW-Brian - California - No - Given to son - Converted to hollow mod style
If you own a 1987 TW200, add your info to the list. (I tried to import a table but it didn't work. Maybe someone more computer savvy than me can format this better than I have).
Brian