Discussion Starter
·
#1
·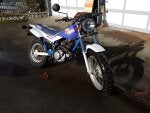 Winter is approaching and the TW is patiently sitting in the garage next to it's friend the 1991 organ donor. The plan is to tear down the 1989, rebuild engine and paint the frame and swingarm. Fork seals, steering head bearings and whatever else becomes needy as the parts begin to expose themselves.
I bought the '89 about a year ago, for 1000 canadian sheckles. It runs ok, looks like crap and hasn't stopped working in the year I've owned it. The speedo works, the ODO does not. Mileage is unknown.
I want to rebuild the top end, make it shiny and have it ready to go by March 2018. If it was just for me, I'd touch up the paint and replace the odo and ride it till she pops... but since it's for my lady, and the plan is to do some exploring with it (chasing me on the wr250r
) I want it to be reliable as a fresh TW.
My first order of business is to begin removing parts, labelling bags and taking pictures as I go. There's no way I'll be able to remember how it came apart once the weeks pass and it's time for re-assembly.
I'm gathering supplies, and have already purchased a full set of stainless hardware for the engine. I'll be ordering new valves soon. Also playing with the idea of going with a wiseco piston and possibly boring out the head. I'm on my 4th TW, and don't mind the displacement... but the idea of having a few more ponies on that little donkey is tantalizing
I'll be posting more and updating this thread as the progress continues. For now, I'm looking into paint options for the frame and swingarm.
I had a local shop quote me 250 dollars for sandblast and powdercoat. As a professional painter, I feel like this is overkill and money wasted. It's not a show bike, it's a mountain goat. I have enough experience painting steel and aluminum to do a good job with the frame using wire wheel/die grinder and a small sprayer or even rattlecans.
I'd be happy to hear suggestions or recommendations from others who have undergone a full teardown and rebuild. I have a pretty good idea of what to do, but it's my first time and welcome the wisdom of my fellow TW restorers.