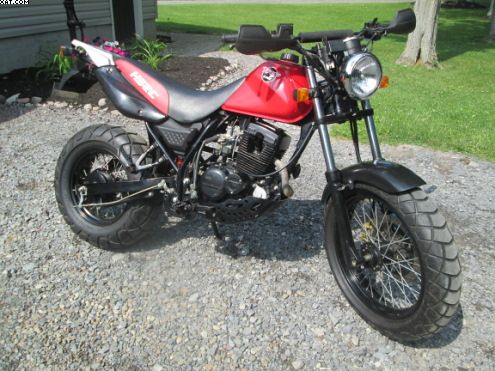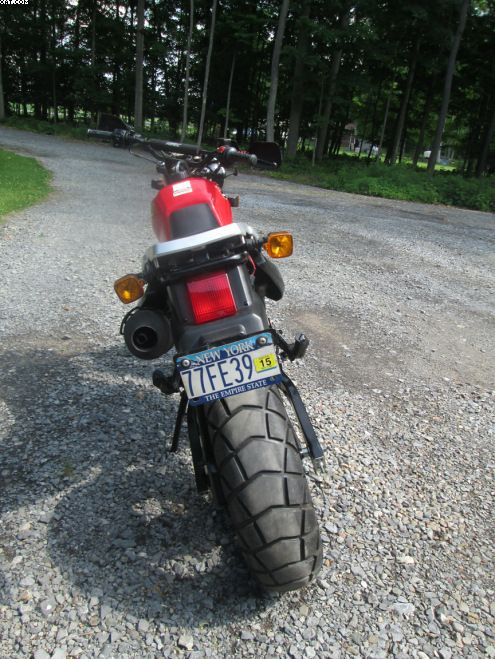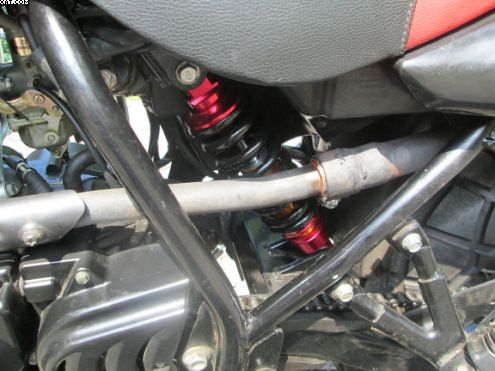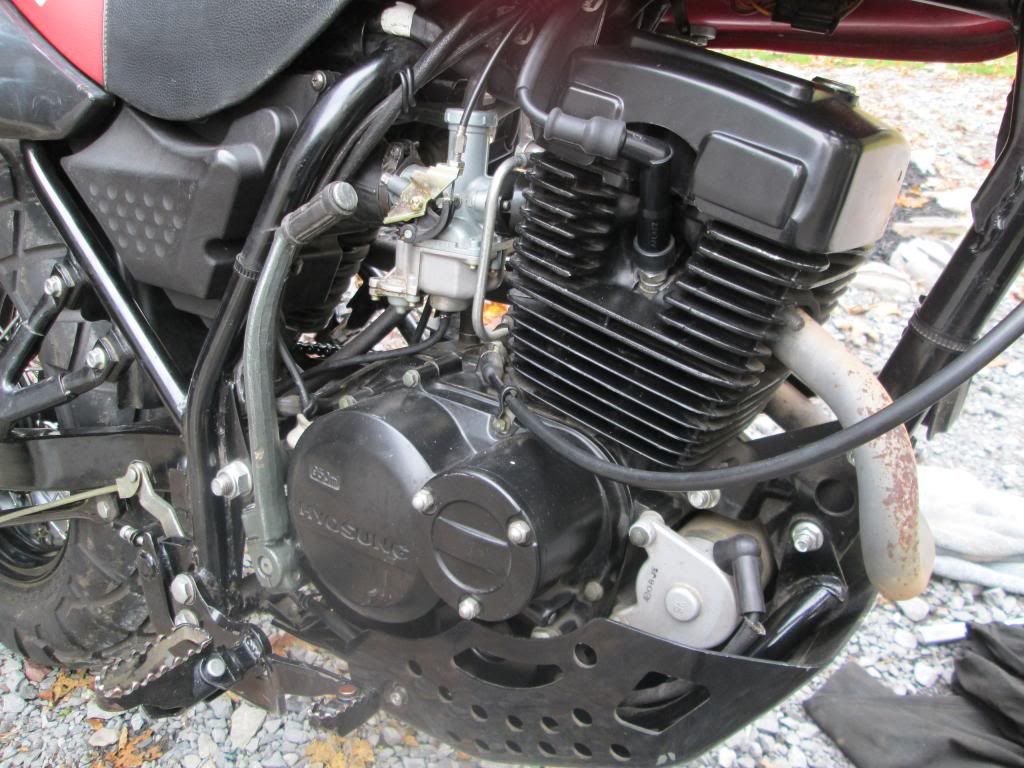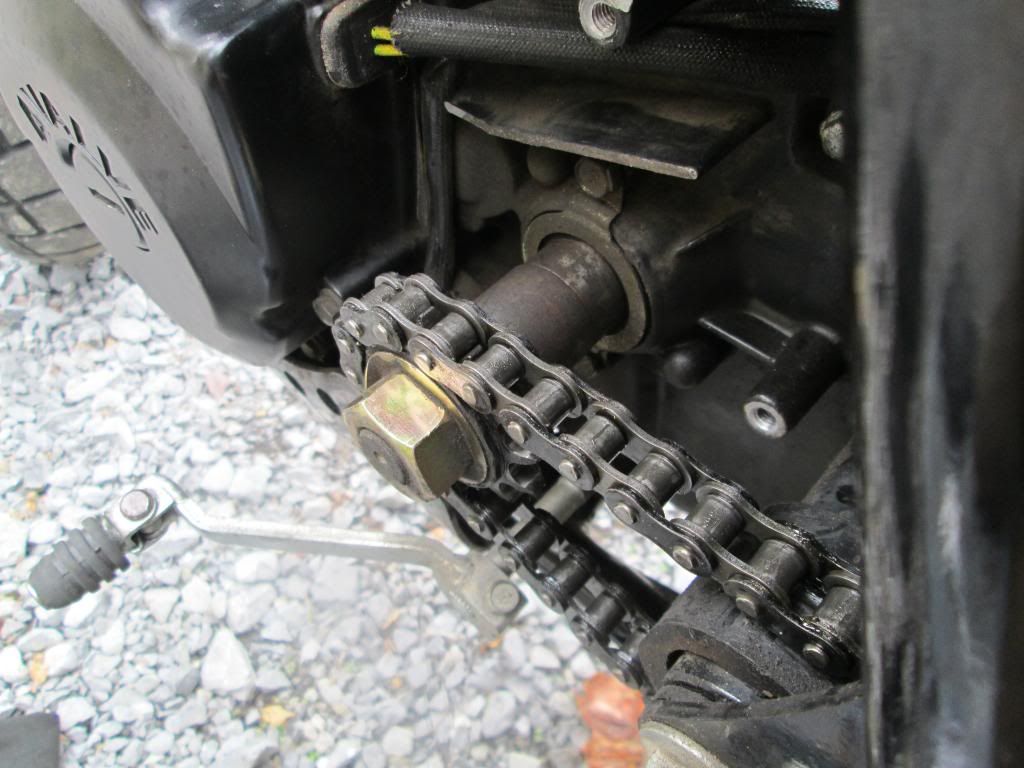 Yep, this is the ONE 2002 Hyosung Troy RT125 in North America. Verified by both Hyosung US and Hyosung Canada as a model never having been imported by them to either country. Actually Hyosung US was
very
interested in the fact it was here and legal on US soil when I asked them about importation...
This model was renamed the Karion a few years back and has been in production and available pretty much everywhere worldwide except here in North America. The bike for sale here was legally imported by a fellow in the US military and has a legal and transferable New Jersey street legal title.
The Troy is similar to a Yamaha TW200. There were, no doubt, more than a few pictures and spec sheets in the design room at Hyosung Corporate when the Troy was being designed. Similar, yet different. Better?, Nah, just different...I has posted here about the bike when I first purchased it and many of the similarities and differences were discussed in this thread:
http://tw200forum.com/forum/general-discussion/8494-special-edition-tw200.html
125cc SOHC four stroke single. An engine that can't freaking wait to run. The bike has both electric and kick start and you press the starter button and the engine is running after about 1/4 revolution. Also voted quietest engine ever by Me. Maybe due to the incredibly heavy muffler. You have to make an effort to hear if the engine is running. Engine is tight and leak and drip free.
Speedo is in KM's and shows just over 7300, which is somewhere around 4500 miles, and I believe that to be honest. Five speed transmission. Two piston front disk brake and drum rear.
The bike is very clean, with only minimal scuffage and wear. At some point in it's life, pre me, it got bonked in the right front some how. Broke the handguard, cracked the plastic headlight shell, and 'ovaled' the chrome headlight ring. That has all been repaired, not replaced, but repaired. Headlight shell and handguard look good, chrome headlight ring has some dimpling (I ain't no body man...).
Bike has been completely serviced. All fluids changed, including fork and brake. New oil filter, new chain, valves adjusted. Rear directionals were replaced as the stockers were missing the lenses and I had a close pair of replacements collecting dust. The stock rear shock felt like it had zero damping to me so I bought an inexpensive billet (is that an oxymoron?) shock that looks amazing, swapped it in, and it feels exactly like the stocker...go figure, but it sure looks cool! The replacement shock was 1/2" longer than the stocker and that gave a bit more BADASS ride height in the rear of the bike. It 'sits' very well. All lights, horn, directionals work perfectly. It even has an EXOTIC switch to turn off the brake light only (?). Must be a non USA worldly thing...
"But Mr Rokoneer, with a bike this EXOTIC it must be a nightmare to source parts", you say. And you'd be wrong. Most parts are inexpensive and available from US sources. The driveline is common in many other models, some of which have been brought in the US by Hyosung. If model specific parts (which are really only body parts) are needed then the internet provides you with LOTS of options from around the world. I saw a ton of both new and used stuff on eBay Europe for cheap.
"But Mr Rokoneer, how does this beast ride?", comes the next query. Like a freaking rocket ship! Actually no. Preface this response by keeping in mind I way nearly as much as the bike. No bullshit here, but it actually surprises me how well this thing pulls me around at 265lbs. For a 14hp (rated) machine it will eventually get up to 67mph with me on it....on the flat. It cruises at lower speeds really well. It stops really well. It is truly a FUN machine to ride, like bugs in the teeth because you're smiling fun.
WONKINESS: The speedo. It indicates speed but has that imprecise vibrating needle thing going on. A replacement speedo is available, but is not so cheap for a not so expensive bike. I would either throw a cheap GPS, a Vapor, or a used speedo from a (egad! So common..) Yamaha TW200 on there.
IT BE NEEDING: A mirror. Can't believe I don't have one somewhere around here to put on, but wasn't able to find one. Stock tool kit was not on the bike when I bought it, and still isn't....
The new owner will get both the original shock as well as the original lensless rear directionals. I'll also include a very thorough service CD I purchased from Europe. I think I even have two keys for it as well.....
And finally, the Price of Exclusivity, Coolness, and Exotocism (is that a word?): Price drop 7-9-14, now $1100
Located smack dab in the heart of the Finger Lakes region of NY. Zip here is 14882. I have no issues with the bike being shipped, but the buyer will be responsible for all arrangements and shipping fee's. Feel free to get in touch through the forum PM function and we can then go to regular emails or talk on the phone.
BONUS FOOTAGE: Video of the beast coming to life: