Discussion Starter
•
#1
•
New to the forum, thanks everyone for having me. I enjoy TW's too much. I love them for what they are and are not. I brought this 2004 home with 3,000 miles for $1,700 on Fri 3/16/2018. It was a little rough but I thought it would be fun to putt around the mountain town with. One thing turned into another so now I am attempting a 30 day custom build. A bunch of things popped up while inspecting it after bringing it home, which led me down this road. I hope to keep this updated in the weeks to come and am shooting a detailed video to post on YouTube I will share.
Picture of the plastics off the bike. Day 1
Taking things apart. New stock rubber ordered. Day 2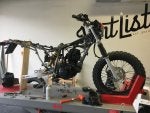 New rubber, moved bike to the shop to be finalized. Subframe cut off. Day 3
1976 Yamaha XS360 tank came in from eBay. 4+ gallons of capacity. Day 6
New front cups welded on tank. Extended back plate for tank. New subframe spot welded. 23" long. 5" wide at tank base 6.5" wide at tail loop. Using 1" .065 steel round. Happy with results so far. At a small loss for how to handle seat figment at tank base. Will be making the seat pan, electronics box and foam is currently ordered. Day 9.
At this point there is still a lot to do. It's worth mentioning. I have roughly 20 hours of work at this point not including research. I am a total of $3,000 in the build including the purchase price of the motorcycle. New parts not limited to. Bars. Headlight. Pegs. Grips. Paint. Steel. Tank. Foam. Sprocket. Chain. Blinkers. Rear led tail light. 4 cell antigravity battery. New tires. New rear shock spring. I am forgetting a few other items. I will detail final price and parts list at the end.