Discussion Starter
•
#1
•
---more kiddie stuff---warned---
Ever since I was a young kid, I liked building stuff. My stuff never really turned out like my little brother's (he had a much better engineering feel), but I liked tearing apart and re engineering old bicycles and whatnot.
Every winter, I was sure to have stock piled enough paint, glue, and plastic car models in hopes of uninterrupted building bliss come an unexpected snow day, and certainly for the big kahuna...the 2 week Christmas break (it was still called that back then
).
When I was about 32-3 or so and awaiting the birth of my first born, I got into building those little balsa wood airplane kits. While building them, I was constantly thinking about the recommended age listed on the front of the box. Thinking of that age, my age, and my experience thus far, I could never really understand how a kid that age could ever come close to making the model look like what was pictured on the box.
That Christmas, my lovely new wife got me this...
The Boy Mechanic: 200 Classic Things to Build (Boy Mechanics Series): The Editors of Popular Mechanics: 8601410935139: Amazon.com: Books
Umm, yeah. There must have been some sort of clutch out, or change, from that generation to mine, as even in my thirties, those projects were quite challenging. I cannot begin to imagine the change in the level of aptitude from then until now; how do you build something when you can't just move things around on a screen with just your finger
. I know my way around a table saw, but these projects were for pre teens
.
-
Fast forward.
I have an older brother and sister, and one younger brother. Dad worked full time maintenance (maybe I said this before) in the city at a packing house while still farming ~640 acres at home (full time plus full time plus!) Since summer vacation going into my 3rd grade year, Dad had to take his 2 week vacation after cultivating, and before harvest, so every last part of July to early August was that time. Several of those years, he and Mom would pack us all up into a 21' 1977 class C Dodge Brougham with no A/C and drive us down into the bowels of hell they call Florida to CAMP at the place they call the happiest place on earth.
Needless to say, I pretty much hate (and I tend to not like using that word) Disney World.
So for my 40th birthday, all of my siblings, along with my wife, thought it would be funny to poke the bear and orchestrated an incarceration trip to a everybody stay in the same time share type thing, happy 40th birthday "celebration"
.
Well, I went...really, I had no choice in the matter, my birthday or not. While there, my little brother who lives down there (they all do really) showed up with a gift for me. Excited as I was about it, there was no way to start on it. My boy, who was 5 at the time, SO wanted into it. Since little, I have started him on Legos. I feel they build hand-eye, attention to detail, and just because, they are cool. Man he wanted into it.
What it was...
Amazon.com: Erector Revolution Crane Truck: Toys & Games
Home it was brought, and it sat there. Now home bound and laid up, I see this thing sitting there and think...I should...read the reviews. Not good. Find something else to do.
Thinking about it, thinking about it, aw he77. If not now, when? So with all bad reviews still fresh in the noggin, I break the seal.
The kit came with an allen wrench and a little open end wrench, but let me first ask, what is wrong with this picture?
About 8 hours later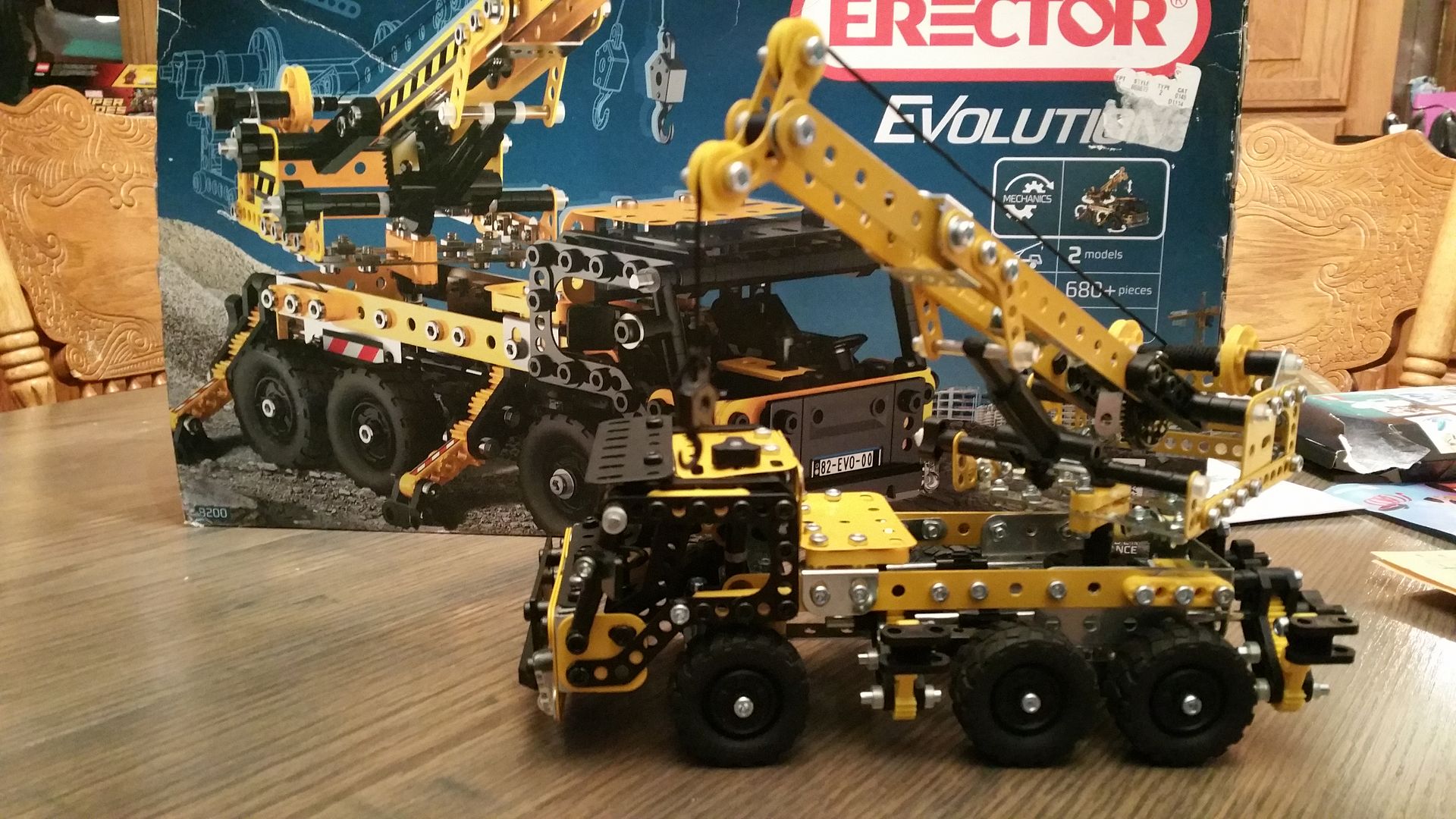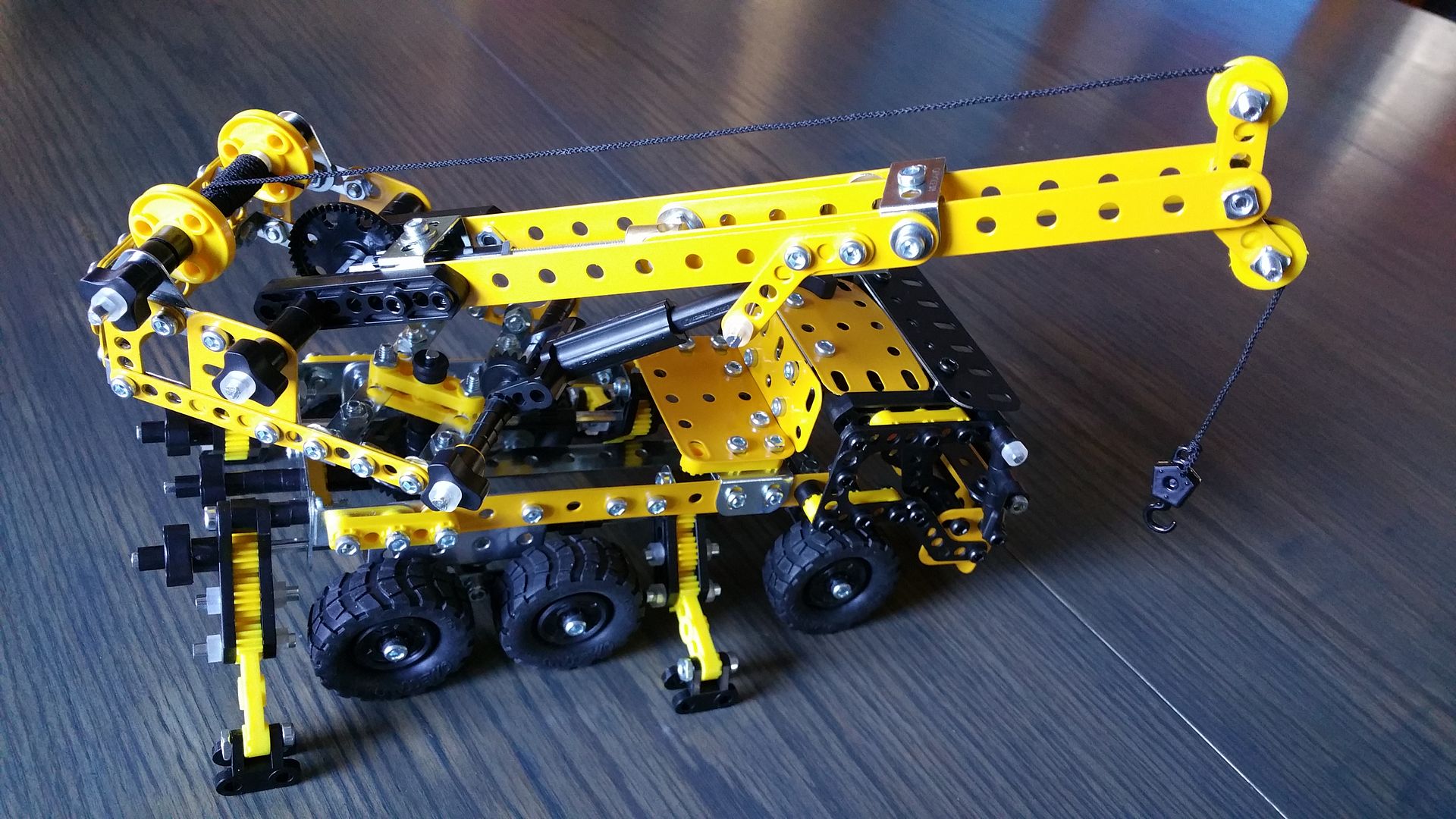 For size comparison
A bit overkill, but if your bike (Kawasaki 750 SS) tips over, it can come in handy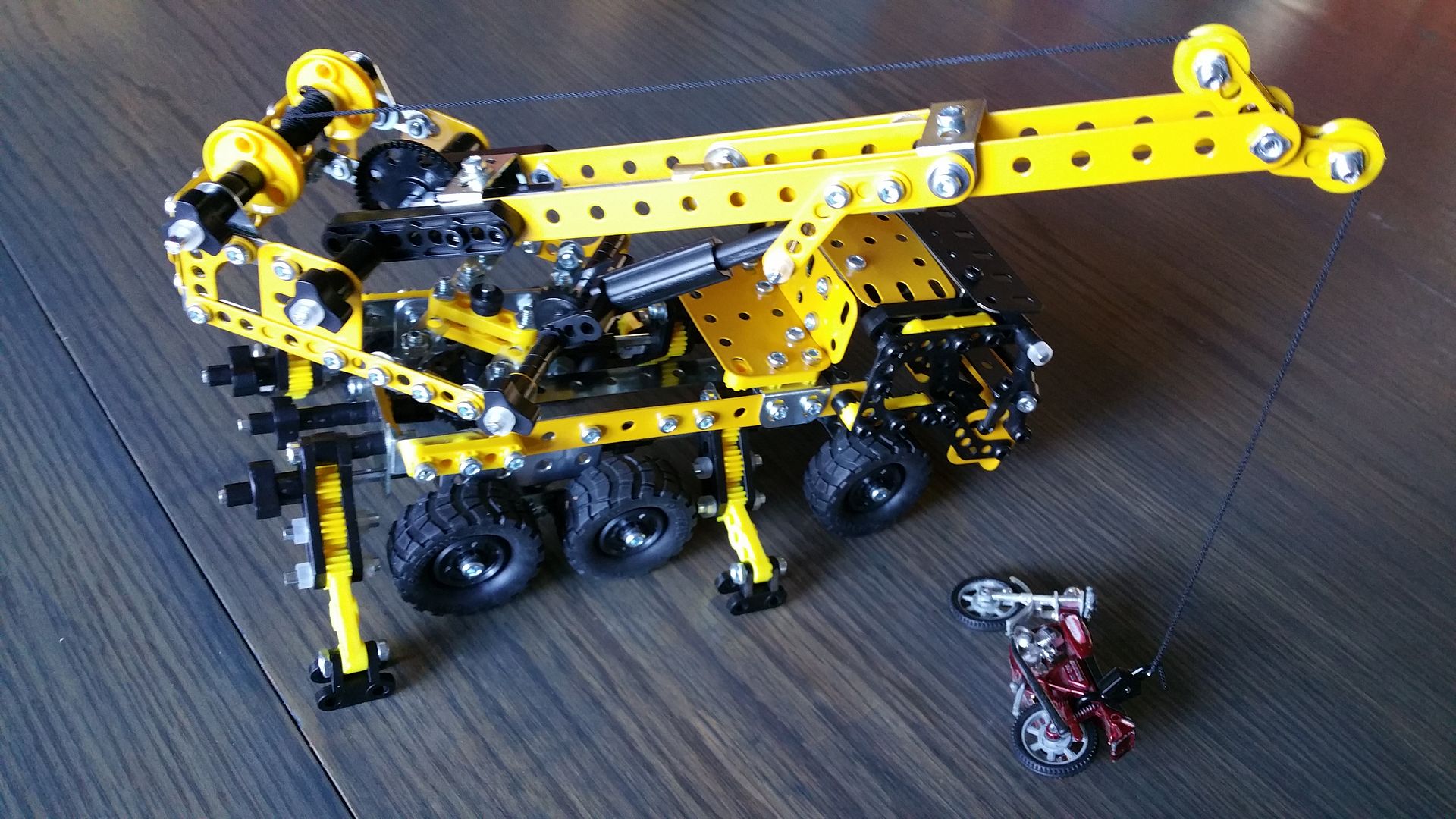 A bit tough to tell from pictures, but it is a neat little kit. None of the controls are done by hand; there are controls for every function.
One knob on cab controls the steering. Two knobs on each side rear control the outriggers and one center knob controls the crane's cab swing.
Three knobs on side of crane control the cable spool, boom height, and even....extend-a-boom!
So, there it is. I am still far from convinced that a 9 year old could do it, but maybe I am just not that talented.
I am, however, getting a bit stir crazy
One last thing for your viewing amusement, what I found on bottom of the box after I was done....
1. Warning! Chokin Hazard. Contains small parts which could be swallowed.
2. Not suitable for children under 3 years old.
3. Photos non-binding.
4. All rights reserved.
5. Please keep packaging.
6. Models shown with special effects.
7. Parts and colors may vary.
-I really like #3 & #7