Discussion Starter
·
#1
·
Some brief history...
Early last year some of my friends and I, all from near Philadelphia, became business partners and purchased a twin home in
Ashland
, PA. Ashland is roughly 2.5 hours from Philly.
The idea was we could have a "base of operations" to go trail riding, and have a place to stay, shower and sleep in the area. We would rent out one side of the house to cover the mortgage and other expenses, and have the other side for ourselves.
The house was built in 1865, and while it was obvious it had been renovated in the meantime, it still needed a lot of work. We got down to the business of making the house inhabitable, working only on weekends as we all have regular jobs Monday through Friday. In a few months, the rental side was complete and tenants moved in. Lately we have been hard at work repairing and sprucing-up other parts of the building... The point of all this is that with all the hard work and bad weather lately, not very much TW riding has been occurring.
Until today...
Steve and I are good riding partners. We don't get impatient with slow trail riding... in fact I prefer it that way. Don't get me wrong, I also enjoy brisk-paced, death-defying throttle flogging just as much as the next guy. Thereis, however, something to be said for going slow, keeping your eyes open to what's around you and just taking it all in.
This was the tact we took today and it payed nice dividends. We were riding this one particular trail up the mountain that separated Ashland from Centralia. We had been on this trail dozens of times, but our slow pace along with the wintery lack of foliage in this otherwise very green area led to the discovery of a small path we had never noticed before. Of course we steered the T-Dubs right down that path.
We acme across this frozen pond and a little campsite...
Here's a pic of Steve and the bikes from across the pond...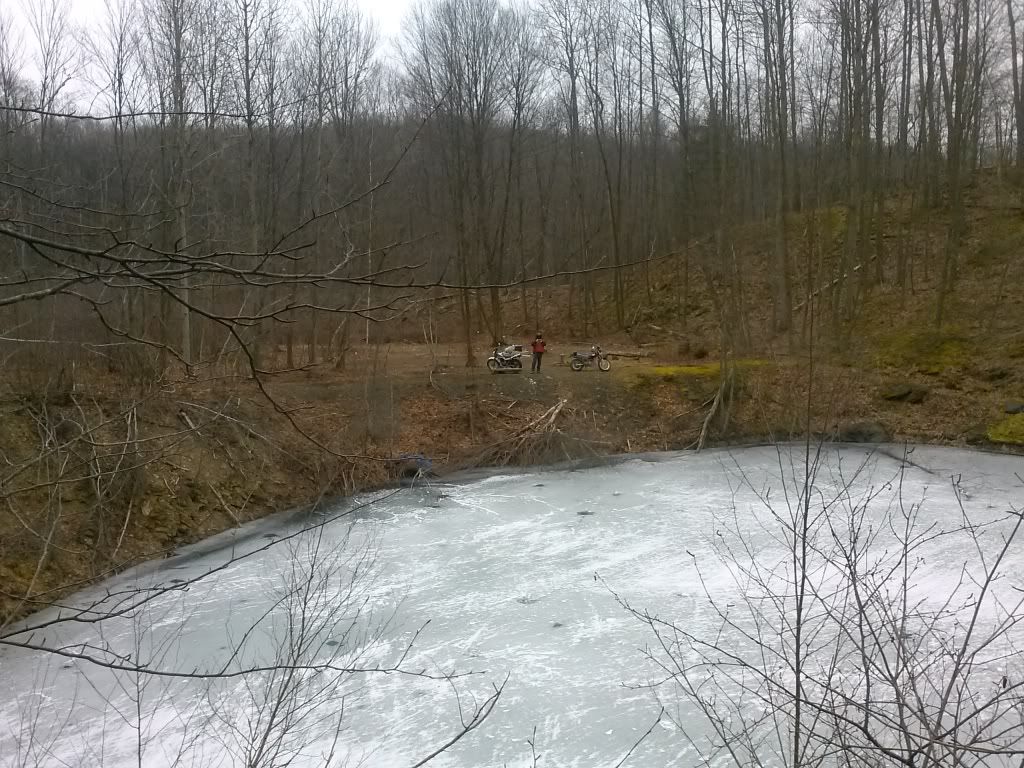 We clicked a few pictures and fired up our bikes, and continued down our newly discovered path. About 20 minutes later, we came across a coal mining operation. The landscape changed sharply here, going from pine forest to a vast wasteland of shale and other rocky by-products of coal mining. Since it was Saturday there was nobody around but Me, Steve and some heavy equipment. Picture time once again.
And you thought the TW had big tires!
In front of a huge front loader bucket.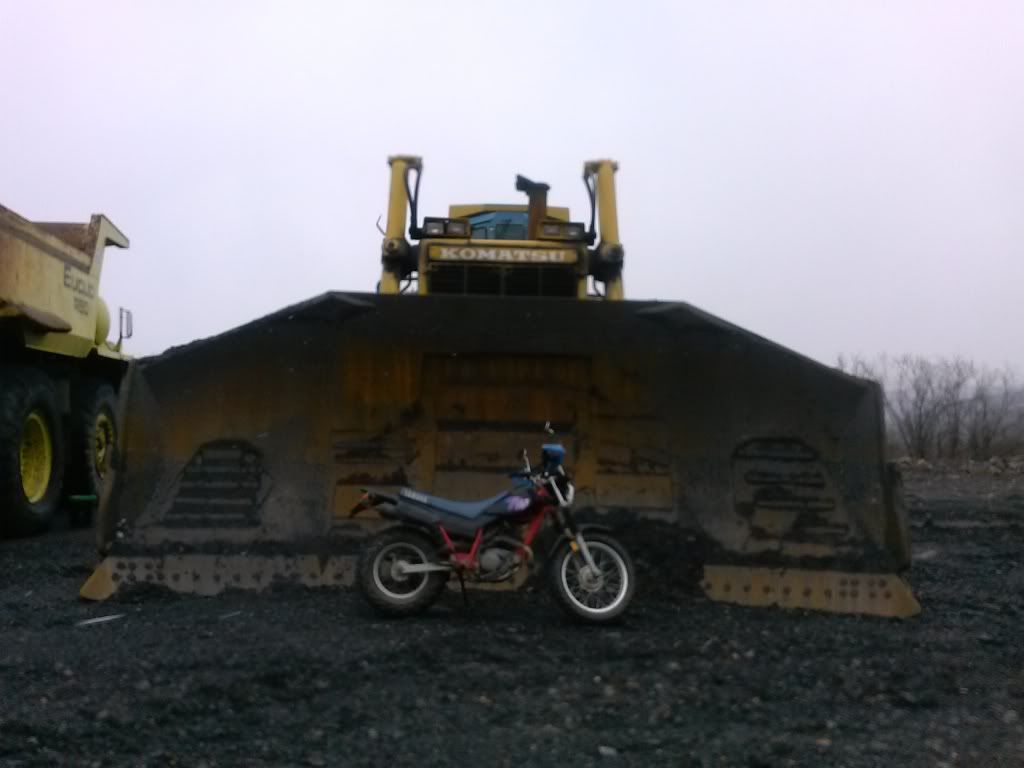 Here is a side view
Of course we were on private property. We respected the area and took only pictures. We got back on the bikes for some more exploring.
It was pretty cold (20 degrees) but navigating the Yammys over the rocky trails was providing enough of a workout to keep warm. Later we came across some ice patches where the trail widened. No doubt on warmer days these were pretty deep mud pits that we would normally avoid or stick to the edge where it could not get too deep. But today they were frozen solid. I thought it a good idea to snap a couple pics with my bike on the ice...
here's Steve's bike
and both of 'em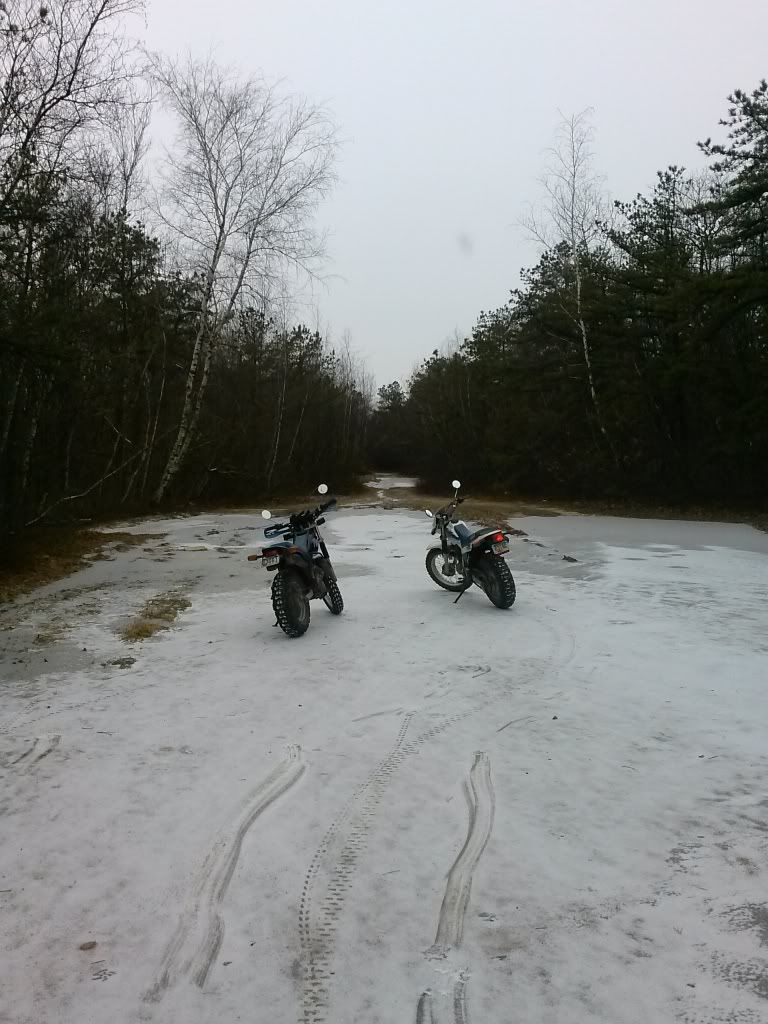 I was thoroughly enjoying myself and cockily rode my MC forward on the ice... then the back tire slipped out from under me and I went down. I was laughing because I figured that would happen, but picking a TW up on a solid sheet of ice is not easy. Every time I almost got the bike upright, the rear tire would slide out and the bike would go down. After a few failed attempts, i pulled the bike while on its side along the slick ice to the edge of the patch and some dry land, where I was finally able to get the bike properly oriented. Fortunately for me, none of this was captured on film!
Further down the trail we came across a nice view of a neighboring town.
Mt Carmel.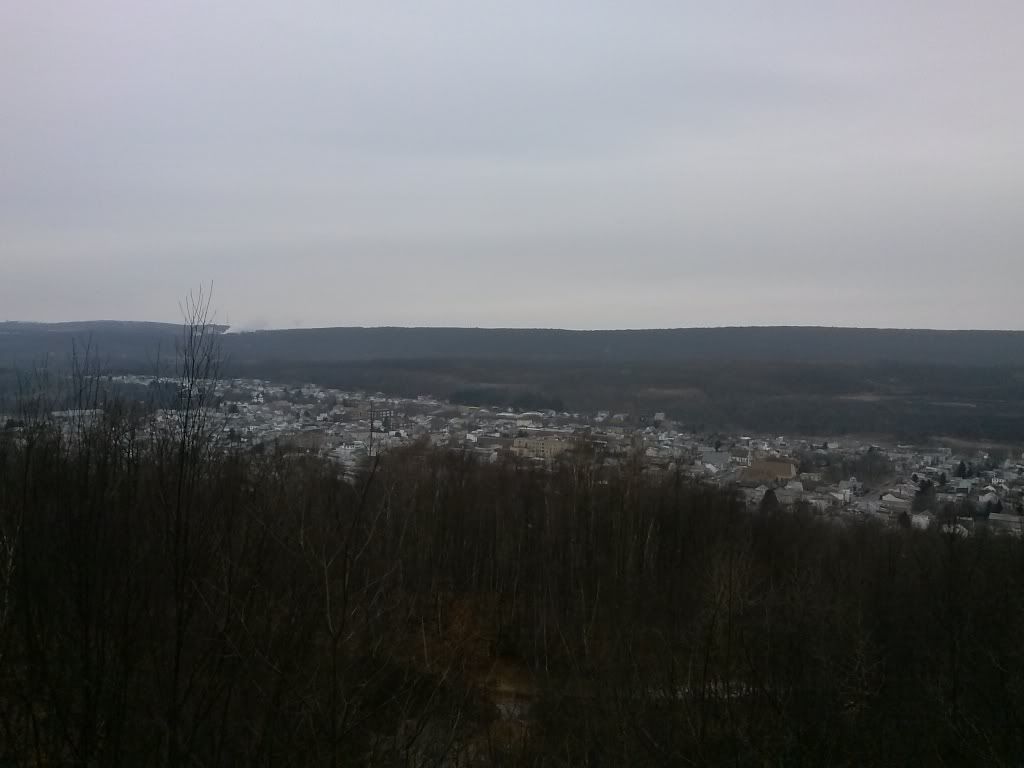 At this point we were both pretty hungry, so we rode into town for some chow. Chicken wings, pizza and lobster bisque. All very good.
Upon leaving the restaurant, is was snowing. We decided to ride about halfway back to Ashland on highway 61, then jump back on the trail for the rest of the way. After about 5 minutes on the highway, my hands and Steve's feet were freezing. We were a little underdressed for highway riding, so we jumped back on the trail to slow the pace and keep the wind off our extremities.
The rest of the ride was uneventful, but beautiful as we slowly headed back to our base, with the snow laying a fresh blanket in front of us. This ride was long overdue for me and I am energized as I type this.
Its amazing what a couple hours of riding can do for one's psyche!