Discussion Starter
·
#1
·
Hi all,
This past weekend my wife Regina and I decided to take a quick and impromptu riding trip to our local mountains. We don't get a lot of cold weather here in So.Cal. but in our local mountains they do get some and soon many trails will be closed until next spring; most of the state-run campgrounds have now been shuttered for the winter which negated us taking our tent trailer and camping (that and the fact that the same tent trailer is slowly sinking in my backyard but I digress) so we decided to rent a small cabin at the Lodge at Angelus Oaks. Shameless plug, we loved this place! It felt like staying with family! We had a one bedroom cabin with kitchen and bathroom, supposed to be $90 a night but we got a cash discount. The cabin was about 100 years old but was very clean and quite comfortable. The place is run by a family and Saturday night we we're invited into the Lodge to play pool (I suck) watch TV (I'm good at that) and hang-out by the fire. Lots of good conversation and good times, I may have inspired a couple of more people to join our ranks with TW's as well!
Here's a pic of our cabin: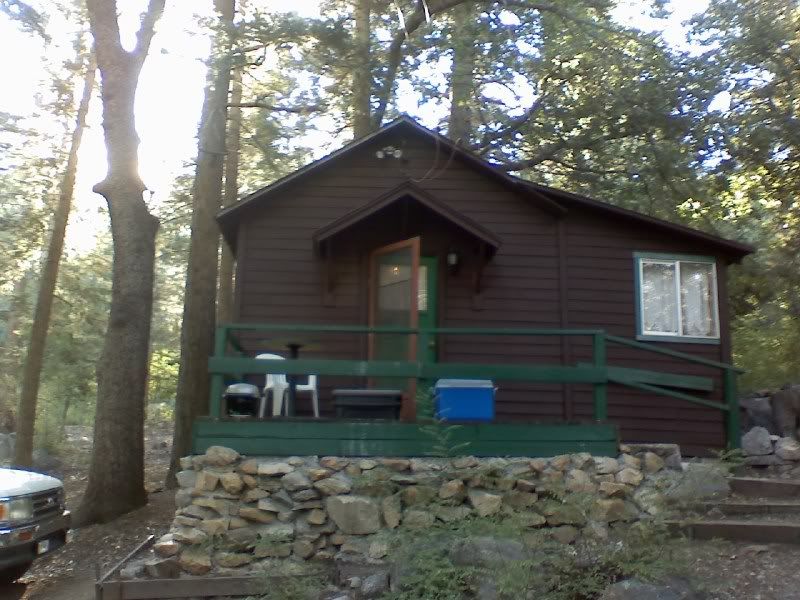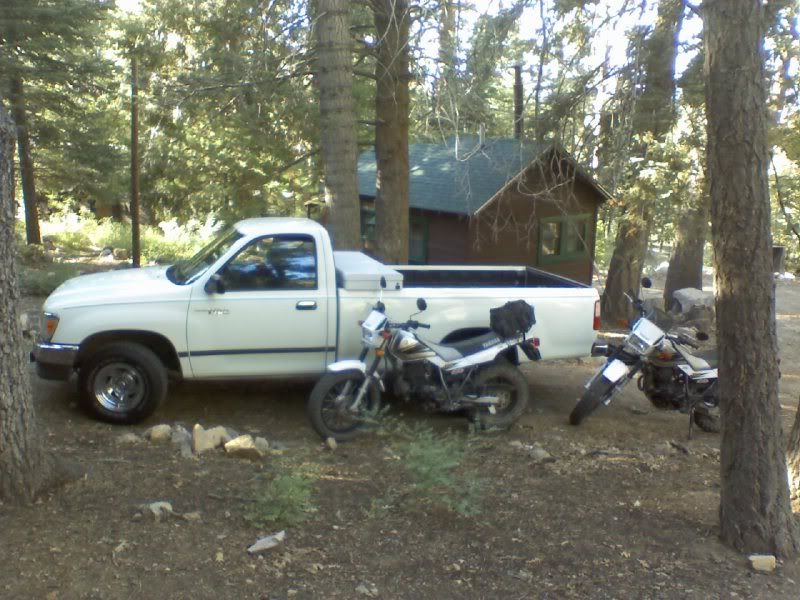 The hitch carrier worked great! The truck not so much, it looks like my Catalytic Converter may be clogged. Hard to complain though about a 17 year old truck which gets abused and over-loaded for trips like this on a regular basis and just keeps coming-back for more.
We arrived at the cabin late Friday night because 1) I got lost making my way from the freeway to the road which leads to the mountains (ten years driving this route, I make one wrong turn and bam! We're in the Ghetto!) 2) We we're 1/4 of the way up the hill when Regina and I realized we'd forgotten to stop on the way for dinner 3) My truck couldn't go faster than 40 up the hill. Guess it's trying to tell me to stop playing with the other cars so much and give it some love! Parts will be ordered later tonight, repairs will be made, this won't be it's last trip to the mountains. So now riding Friday night (I was too busy using my laptop and Google to figure-out what was wrong with my truck).
Saturday morning was cold, the bed and the cabin we're warm, I'd been up until three surfing the web and my wife and I were alone on a trip...You can see why the TW's stayed in the truck until 10am. By 10:30 though we we're on the trail headed for Big Bear Lake, 34 miles via paved roads, 17 via dirt roads.
Regina hadn't ridden her TW in the dirt since last April when she took a couple of spills which spooked her I think so I wanted this trip to be slow and let her get used to riding off-road on a TW again (we can't take the quads everywhere). I'd left my GPS at home (oops!) so our first ride was 10 miles up the mountain to a Ranger station to buy a map. I had ridden in this area last June and knew the trails to be pretty easy, but kind of rocky. Plus we had some rain recently so I knew there would be water-crossings!
The water fall was an added bonus!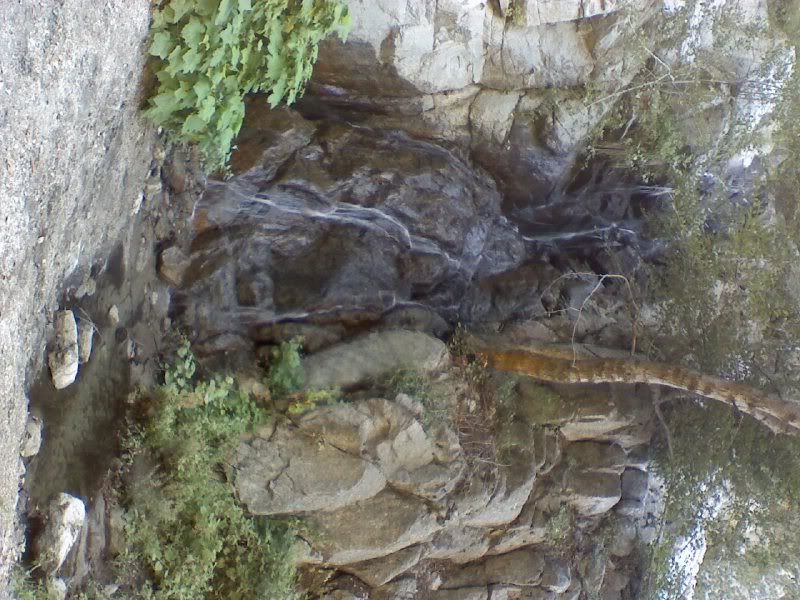 Regina was a little nervous when we hit the first dirt trail but did pretty well and soon she pulled-up next to me and asked why I was riding so slow! I guess the dirt therapy worked so I kicked-it up a notch and we we're at Big Bear Lake within 45 minutes.
We had lunch, rode around the lake and cruised around town (this was my fifth time to this place since June and her third) but it's one of our favorite places to go so we still had a blast. We took the same dirt roads back to our cabin and Regina decided to start taking harder lines because they looked like fun! I didn't but enjoyed wathcing her almost crash in my mirror. On the way back we stopped by Jenks Lake for a few minutes:
In all we did 83 miles on Saturday, I did another 20 this morning. It was a great weekend of riding and weather, felt good to get some miles down on the TW's again!
Kevin