Discussion Starter
·
#1
·
A friend of mine from high school (class of '87) and I meet every year in the Fall to ride offroad, camp and fish. This is our fourth annual event after re-connecting at our 20th class reunion. This year we picked the Bald Eagle State Forest in central Pennsylvania for it's proximity to Maryland (me) and Michigan (him) and its 7 Mountains Ramble Trail. This is a dual-sport-only trail system that links dirt roads with dual-sport specific trails.
7 Mtn Ramble Info
PA State Forest Link
(Note the PA internal info. site was down when I posted this.)
We stayed in the Poe Valley State Park that has easy access to the 7 Mountain Ramble Trails. We upgraded from our usual tent site to a cabin with electricity and heat. With rain and temps in the lower 40's at night, the cabin was much appreciated. Clean restrooms with hot showers nearby made it a perfect location.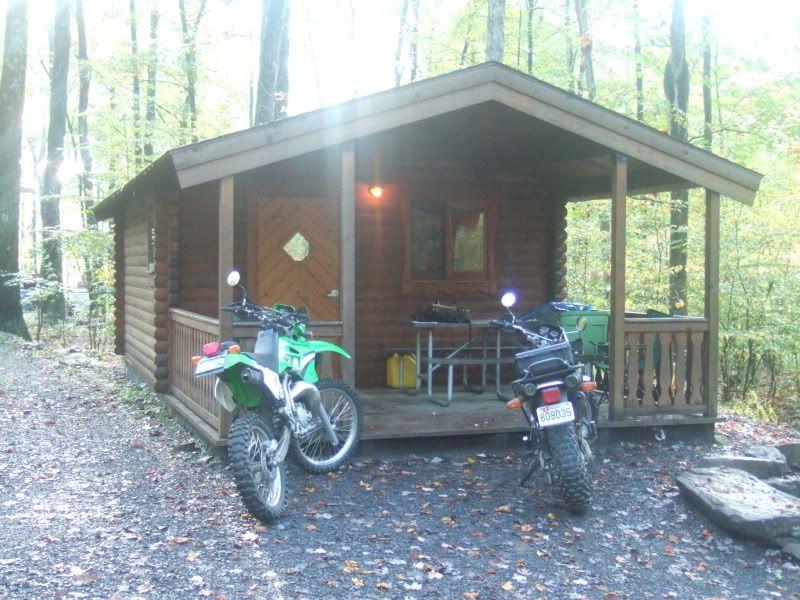 The trails are fairly well marked with yellow blazes, although we did have several occassions where we made wrong turns due to unmarked intersections. Most of the trails are on unmaintained forest roads that can also have logging or other vehicle traffic. Call the BESF to have them send you maps as they are not available online. In the 150+ miles of riding we did, we saw no other motorcycles and three cars on regular dirt roads.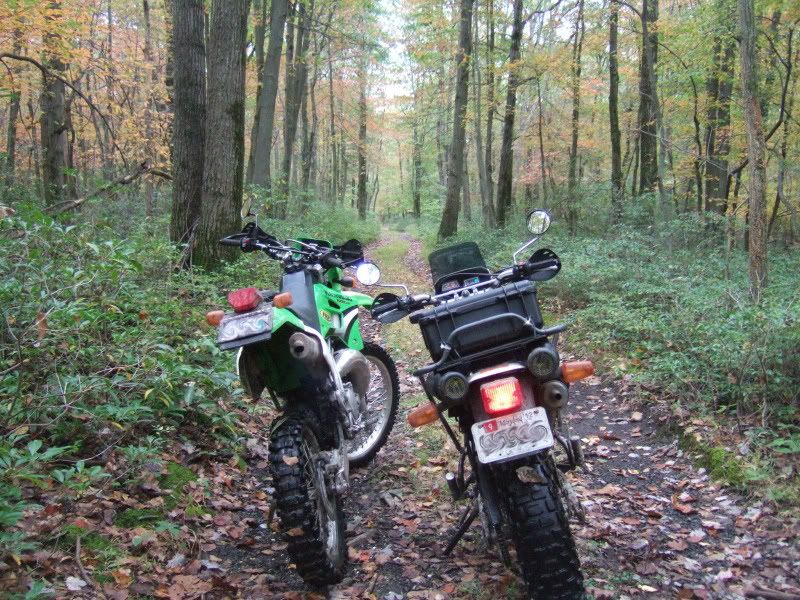 We quickly learned that when the map showed black dotted sections that were just for motorcycles, it meant we were in for a challenge. My friend rides a KDX200 with a Baja Designs street kit. September was the wettest month on record, so many of the trails were actually streams next to larger streams. This added to the challenge on otherwise moderate sections. Where there weren't streams, it was often very steep and rocky. I passed on two steep uphill sections that were very loose due to all of the rain. Several sections were only deemed passable if we were going downhill.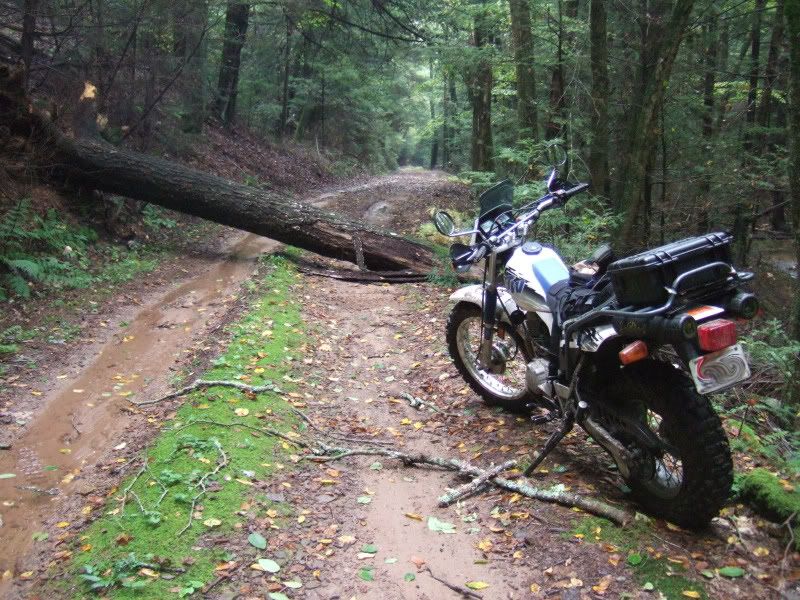 Overall, my '99 TW with its new 14/49 sprockets, DID o-ring chain and Michelin T63 "rear" tire on the front performed admirably. She was up to the task more than me.
We plan to return to Bald Eagle for our fifth-annual event to do more fishing and to try out the nearby off-highway motorcycle trails called "Shade Mountain". These have a reputation for having exceptionally challenging sections that will probably send us back to the dual sport trails whimpering.
I highly recommend dropping by the Seven Mountains Ramble Trails if you are local or planning a trip around this location. It is well-suited for TW200 riding and a great getaway for riders of all skill-levels looking for beautiful mountain scenery away from civilization.