Discussion Starter
•
#1
•
I was going to experiment with the carburetor on my TW with the 70mm Wiseco Piston and the MegaCycle camshaft. I am trying to get the low end performance to be a little better even though I am very satisfied with the mid and upper range performance. Since I put the camshaft break in grease on the camshaft I decided it was time to change the oil -- and that is when my troubles started.
Long story short I bought a new six sided 19mm Craftsman socket hoping it would grip the end of the drain plug well enough to unscrew it. It held but the drain plug didn't.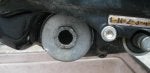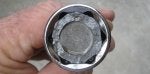 Next I tried a chisel on the outer edge of the plug. Problem with that is the chisel has to be angled towards the center of the plug or it slides off. Basically it didn't work.
The next idea was to drill a hole so I could angle the chisel in the direction the plug turns and that worked perfectly. Two not very hard taps and off it came.