Discussion Starter
•
#1
•
Since I was waiting on parts for the TW, I loaded up the Big Wheel and spent 4 days with friends up at the Rubicon. On day one a friend and I headed in through "gatekeeper" and made our way to the "bowl". After meeting up with some friends coming out, we decided to venture further to Ellis Creek bridge to enjoy a refreshing cool off in the creek before heading back to loon lake camp. Just before the bowl, I smacked a rock and bent the rear sprocket so bad it bound up and stopped the bike. Luckily with my friends cressent wrench, I was able to tweak it back good enough to make it back to camp. The next day, we rode again but I the sprocket kept bending back. Bummed I forgot to throw the spares in my truck, I parked the bike and rode and drove with friends the next couple days and still had an epic time.
Gatekeeper, (used to be much more difficult)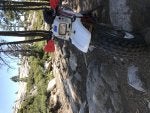 Letting Craig pass by at Gatekeeper
The "Bowl"
Craigs 40 and my bike at the Bowl
Ellis Bridge, time to hydrate.
I have to get a go pro an post up video of the next trip for sure!