Discussion Starter
•
#1
•
Hi. I'm new to the forum. I bought my first TW a few weeks ago in Massachusetts. It's a 2020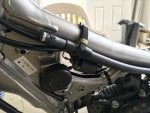 CA model. The dealer said sometimes Yamaha just ships a CA model instead of a 49 state model.
I have seen a few threads about the emissions canister removal but I have a few questions.
Do I need to change my gas cap to a 49 state model? I read somewhere that the CA gas cap is not vented because the venting goes through the canister.
Also, I pulled off the tank today to wire my GPS in and there is another hose with a plug in it along the left side of the frame under the gas tank to the intake manifold. Here are two photos from each end. Is that also part of the emissions system? Can I remove it? Do I plug it at the manifold or do I need to buy a new 49 state manifold rubber?