Hi everyone, I've got a 2002 Yamaha Roadstar Silverado XV1600 with sidecar. With a decent quality motorcycle tire on the back, I got less than 2,000 miles on it and the tread was worn to less than 1/16". Wouldn't pass inspection.
After doing a little wandering on the web, I found out that some riders are replacing their MC tires with car tires on the larger touring and cruiser style bikes. There seems to be a lot of discussion out there about the safety of this. Rim design and dimensions are different along with the tire designs and dimensions. Some were using over a 100 psi to get the bead to seat!
I decided to give it a try, the sidecar rig stays perpendicular to the road, like a car, so leaning into a turn and running out of rubber contacting the road is a non issue. Grossly over inflating a tire to get it to seat is a scary scenario. I hear stories here about Duro tires blowing up trying to get them to seat on TW rims. So, with this in mind, I wasn't going to go over the recommended pressure printed on the tire. Well, maybe just a little bit if I had to.
The old MC tire was a bear to get off, very stiff sidewalls. The car tire, a Coker Firestone Vintage Tire from Summit Racing, went on fairly easy and seated at 25 psi (with lots of soapy water).
Took the bike for a ride with and without a passenger in the sidecar. So far so good. Can't tell the difference between the 2 tires. Hopefully. I'll get better mileage out of this tire.
Any body else try this or know anyone that has? Results?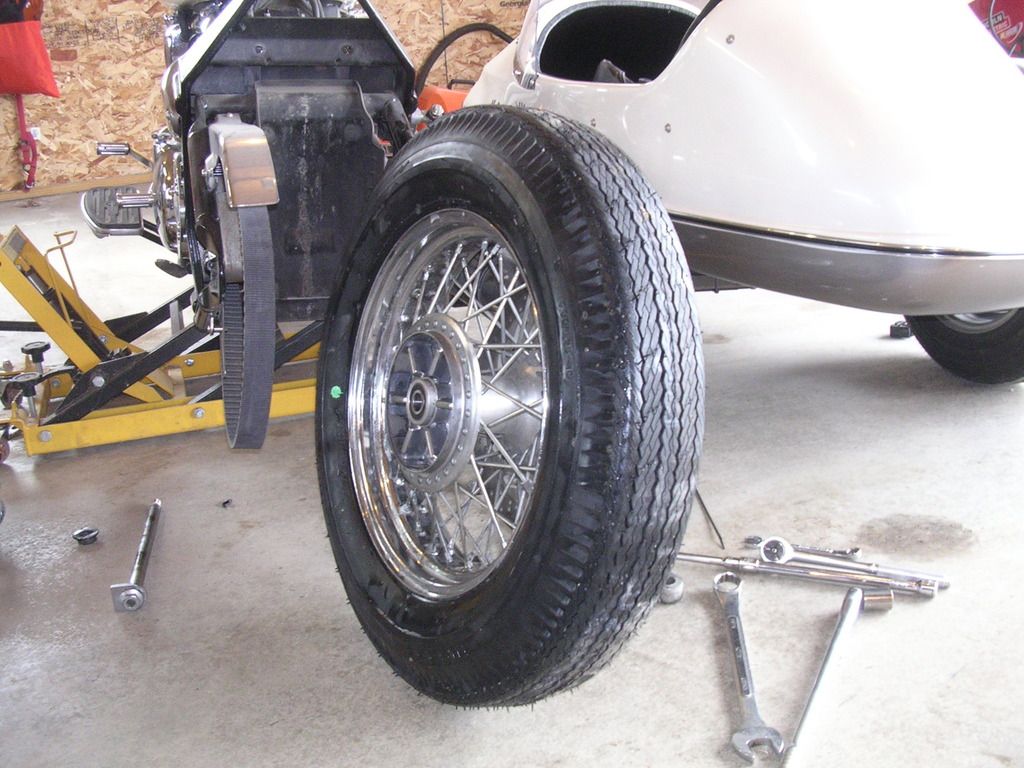 High Tech balancer.