for a wide view, here is a good summary of the various types of "powersport" ignition systems.
Powersports Ignition Evolution

"making spark is easy- making it at the right time is difficult"
overheard on the internet.
-
hi
This thread is to provide and build baseline information about the tw ignition system,
so that testing, replacement, and substitution becomes easier. not to mention possible.
-
my bike is a 1990, so some of this initial information is specific to the 1988-97 tw's.
lets keep general cdi troubleshooting -
"help my bike won't start !" , "hey friend have you checked that sidestand switch?"
off this thread please.
corrections, updates, overlooked resources, independent verification (with a real oscilloscope!?), data for other years, special skills, and confirmed sightings of successful tw cdi swaps with part #'s are all very welcome!
thanks,
slowmod
-
once upon a time,
my bike ran erratically, yada yada, ended up being a bad cdi, yada yada. oem = $430 cdn plus tax. no.
after months of combing the internet, it seems that cdi substitution attempts seem to fall into 3 catagories: 1) the many who
tried valiently
but eventually had to give up, 2) those rumoured few who lucked out, hacked something in and it worked, but it's not easily replicate-able on the tw for some reason, and 3), those who bought expensive programmable ignition units to squeeze out max performance, or went to
truly great lengths
to build their own, or
swapped entire systems
from similar bikes.
good tw reference data at that last link, by the way; cdi #s, years, previous attempts, links, etc.
however, none of these outcomes is of much use to those of us who just want something resembling a reliable stock working bike for cheaper, before the summer ends, ideally.
so i set out to find what the tw offers up to a perspective substitute cdi. i am really hoping not to end up in catagory 1.
-
this first round deals with trigger and power; finding a cdi that also has a similar-to-stock timing curve- starting near 10deg btdc advancing up to 30, (a straight line, a rise then rolloff, or?) is the next layer.
-
scalpel please
if one pulls out a dead tw cdi, what's left? (ignoring the interlocks and all that crap for the moment).
upstream; the spark coil, plug wire, cap, and spark plug.
downstream; the cdi power/source/charge coil/stator/magneto, and the pulser/pickup/trigger coil/stator.
finding out exactly what those coils are putting out, and when, is kinda key to matching in a substitute cdi.
as well, the possibility of powering a new cdi with 12v exists, although the older tw charging systems don't have much/any headroom for power consumption. swapping out the headlight with a new led type might free up enough power to run a modern 12v cdi.
focussing on the pulser: different cdi's look for different types of triggers, (separate from
when
the cdi's should have them, and
how long they delay
once they have the trigger signal..).
some cdi's look for a rising-plus-voltage-when-it-hits-1v (ie the briggs and stratton
magnatron
which also provides some timing advance, as the 1v occurs earlier with more rpm/energy); some cdi's look for the plus, or minus peak; square wave, sine wave...
some cdi's look for a rising-minus-at-zero, and some look for a
falling-plus-at-zero
.
(the gy6 cdi's, for example, according to the good folks at
buggymart
), who offer plug-and-play retrofit cdi service, though they haven't done tw's yet. i am in contact with them and will report back if we figure it out for the tw.
-
cdi/pwr/pulse schematic
stators
magnets
testing, testing
all tests done at cranking speed.
first, i determined and marked actual physical tdc.
led-as-timing-light is powered directly by the coils (with resistors as needed to drop voltage).
shows the signal
peaks.
pulser coil
grn+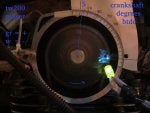 w+
there is also wasted spark trigger occurring directly opposite, but the led is not pointed there so not visable.
(continued in next posts, only 5x images allowed per post...)