Discussion Starter
·
#1
·
After much thought and consideration, I decided it was time for more fuel capacity. I've done some overnight adventures and have glided into a few gas stations running on fumes... And not having to pack around a Koplin or similar fuel can sounded nice, especially for daily summer riding to work... So anyway, here goes...
My buddy Bagwell (fellow TW200forum member) recently got the Clarke TW200 2.7 gallon tank and it looks and works great. But I was feeling 'Froggy' and decided to jump for the XT225 4.1gallon. A couple other TW200forum members on here have done it and I liked how they looked, and definitely liked their capacity!
I got mine through
www.justgastanks.com
and with the "ADVrider" discount code, it was at my door in about 10 days for $193.
Initial mock up looked good but I instantly knew it wouldn't be super easy. After a day of pondering, I came up with a plan and it worked great. The tank comes with 3 aluminum brackets to relocate the horn and plastic side pieces for the XT225. Well, I used the horn relocation bracket (drilled a 2nd hole to move the tank forward a 1/4" or so) and bolted it on top of a rubber bushing I had in my assorted goodies and mounted the stock rubber tank mount on top of that and it worked perfect. The tank has an aluminum bracket that bolts to it. All I had to do here was slightly increase the angle of this bend. Super easy. The front pucks that the tank slides onto were about 1.5 inches ahead of seating in the tank's slots. It actually worked but felt loose and seemed risky. For this, I knew I needed to make oblong pucks that went all the way into the tank's slots. For each side I used a stock puck and added another rubber bushing I had and taped them together using that self-vulcanizing emergency fix-it tape that some folks keep in their emergency tools and such. Anyway, it easily made the oblong pucks solid and very functional. And that's it. This setup has the tank a solid 1" or more above the engine. Hopefully the tank won't settle more than that over time. I got a new TW200 petcock, which runs about $21. The seat conformed well and required no mods to fit. Right side plastic works as is, but could be trimmed a tiny bit. Left side plastic still needs to be trimmed as the petcock is actually a little behind it. Will update this thread once I get that done. Lower brake cable guide (on triple tree) has to be flipped around and mounted forward, rather than backwards.
So far I have ridden 50 miles of road, gravel, and trails... plus countless wheelie attempts and everything is solid.
Other doodads include:
Small dual filament front marker / turn signals to match my rear ones (Amazon.com)
New foam air filter element.
Checked the valves - looked great (~4000 miles on the odometer).
Cam Chain Adjuster - was waaaay loose. Set to factory spec (per FSM) and my engine sounds amazing now!... Even feels smoother / stronger.
High-Fender setup - used 1/4" Allthread and bent it to clamp over the lower triple tree. Easy setup but found stock fender is too small in wet / muddy conditions.
Lots of over-spray to your chest / face. Going to try a YZ250 front fender next. If that's ugly, I'll go back to a low-fender stock setup...
LED Tail Light / Plate Mod - Light from Amazon.com and made a bracket. I really like this look. No extra mess from tire spray after riding wet / muddy conditions.
Bark Busters / Hand Guards w/ removable shields - They were 50% off at Cycle Gear ($45). Too cheap to pass up. I like them and found that they actually deflect a TON of cold air, which was a happy improvement!
All new wheel bearings (front and rear)
Upgraded Steering bearing kit
Tank comparison: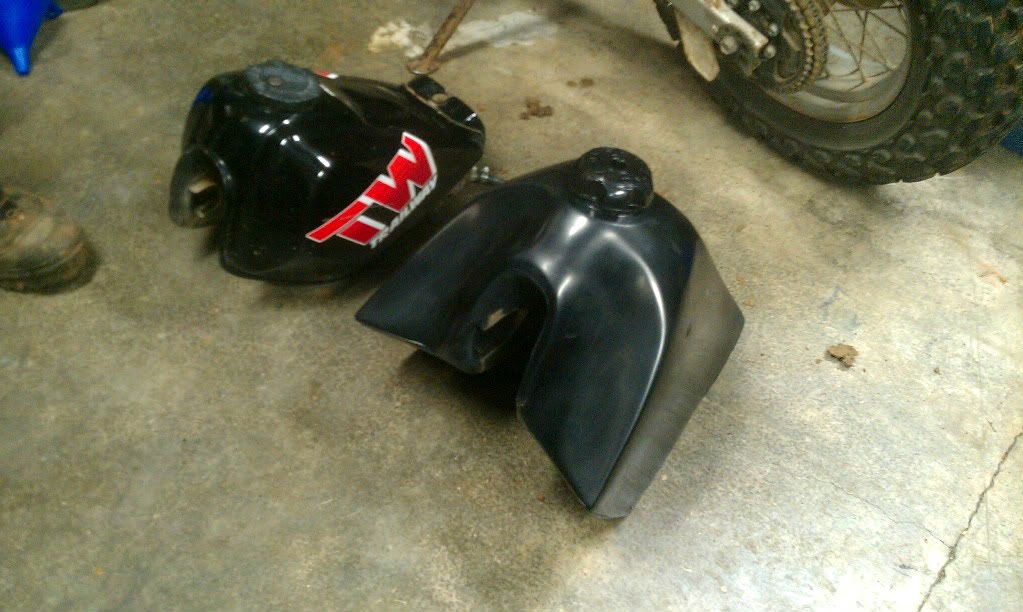 New tank over the stock rubber mount:
Rear tank mount above and behind the stock tank mount:
XT225 horn relocation bracket (note the new hole I drilled to move the tank forward a little bit), on top of a rubber grommet, and bolted to the factory mount point on the frame (see post #20 below for pic of the rear OEM tank mount, which is just bolted on top of the aluminum bracket). I may actually convert this to non-rubber mount with steel bracket if the rubber/aluminum is too weak / flexible.
Modified front tank pucks: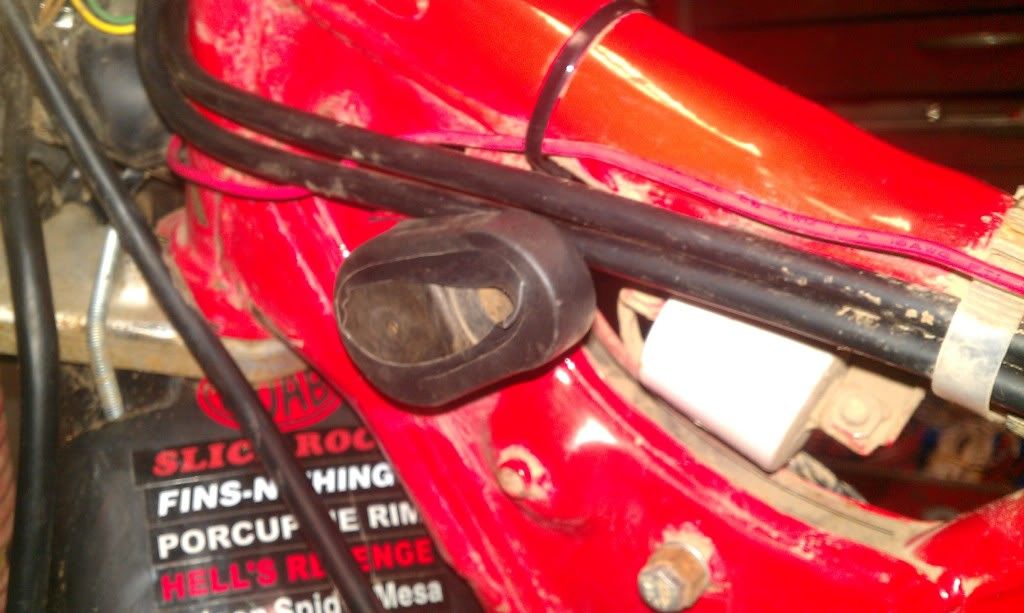 Before:
After:
Another view:
Another view, with my boy begging to go for a spin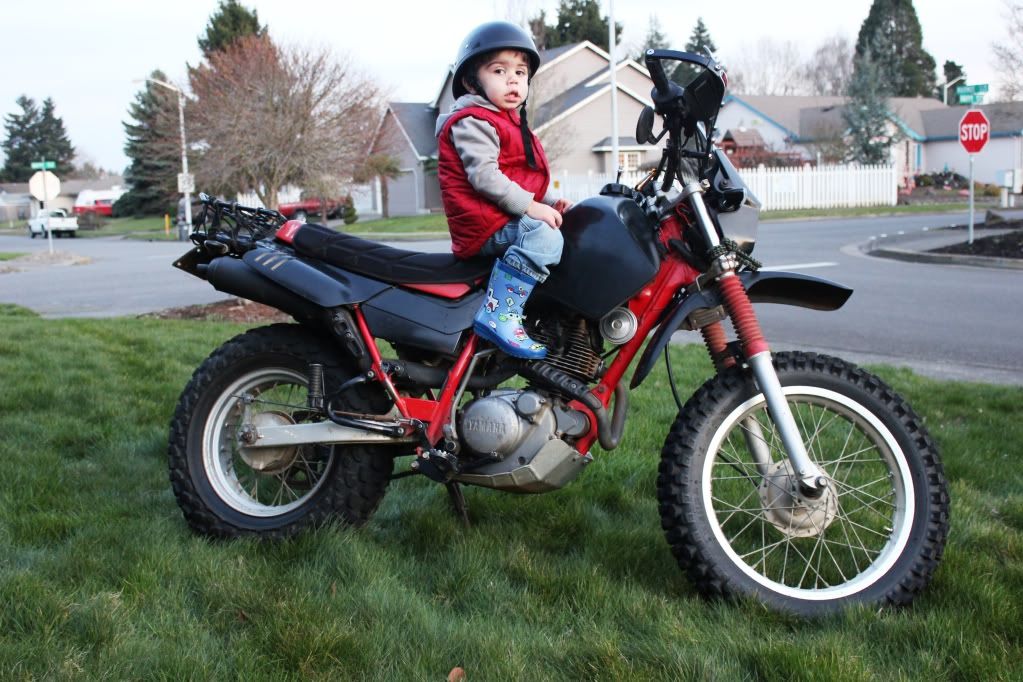 ...