Discussion Starter
•
#1
•
Hi all,
I am changing to a 47 tooth rear sprocket. I thought for some reason the clutch was under the left side cover, so while I'm in there I figured I'd put in new heavy duty clutch springs and new plates.
I have 5 Barnett friction discs (tabs on outside)
From Modesto CA ebayer motorcyclemx-2009
​
Barnett Clutch Kit with Clutch Spring KIT.
​
FITS YAMAHA TW 200 1978 - 2018
​
Kit has, 5 KEVLAR FRICTION PLATES , and COMPLETE SPRING KIT*
.. but in researching the replacement I realize I need clutch plates (tabs on inside) too.
Parts manual shows 4 on page C3 -
9 137—16324—00 PLATE, CLUTCH 1 4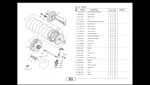 I guess I need these to?! I read I'll need to replace ALL clutch parts to get it to work right.
My confusion is everywhere I look I see "friction plates" with tabs on outside. Any source for "clutch plates"?
I'm going to check with motorcyclemx-2009 and see if he supplies these too.
Also, is clutch basket holder -https://www.partsgiant.com/p342035-ebc-clutch-installation-and-removal-tool?m=564901&gclid=EAIaIQobChMI7s2ktt3C2gIVUEsNCh3bKwWTEAQYASABEgKHVPD_BwE - necessary?
Thx!