Discussion Starter
•
#1
•
One of the spare heads I have has a valve cover with a compression release gizmo on it. Today was the day I figured I would install it and see how it worked.
After I buttoned it all up and gave it a kick I realized the exhaust valve was open to much. There was no compression. So I changed it to the off position and there was still no compression. The exhaust valve was open all the time. Something was wrong.
I took the valve cover off and held it next to the head I took it from. All seemed OK.
When the valve cover is on the end of the rocker arm goes in the flat notch on the shaft. With the shaft in this position the exhaust valve is closed all the way. Turn the shaft and the rocker arm is prevented from closing all the way. The exhaust valve is held open a teeny tiny bit. That is NOT what was happening on my TW.
I compared the end of the rocker arm on the spare head and the rocker arm on my TW. The end of the rocker arm on the spare head has been milled down to about half thickness. The one on the TW has no milling. Clearly this was the problem and the reason the exhaust valve was held open no matter what I did with the compression release.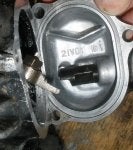 Conclusion is unless the head came with a compression release the rocker arm will have to be fitted to the compression release shaft, or maybe swap the rocker arms but I don't like that idea -- the belief is that it is bad for the camshaft to swap rocker arms.