Discussion Starter
•
#1
•
As mentioned in another post, 2018 is the year for another "
Great Big Adventure!
" Wish I could say it was an annual event, but the last time I took 3 weeks off and traveled across country was for Burning Man back three (four?) years ago. There is
So
Much
Planning
To
Do
!!! I figured this was the perfect place to start my thread.
So the loose plan at this time is to ship the bike out to a Portland, Oregon Yamaha dealer, then fly out to pick it up, stock up on basic food stuff, and start my journey back home. Route plans are tentative at the moment, but I want to either go to Yellowstone or Yosemite park - both of which I've missed the last two times I've been out west. Not going to miss them again! I'd love to go to Yellowstone because I loved Wyoming. Such a beautiful state! But if I go to Yosimite, I'll pass through Reno where my aunt and uncle live. It's always good to see family
Both are roughly the same distance from Oregon, so the choice really becomes, do I travel back to Wyoming, or head down the Seirra Nevada Range to see family on my way to Utah?
, the more I type, the more I lean towards going to Yosimite.
After Yellowstone/Yosimite, I'll head to Utah and ride through Moab area. If I'm still in one piece after that, I'll rent a van/truck/car with trailer, and hit the interstate to cut across mid-America to Chattanooga, Tennessee and start my way north along the Blue Ridge Parkway to Waynesboro, VA. From Waynesboro, it's less than a half day to get home.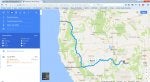 So anyway... here's my thread! I've got to go to work, but look forward to chatting with everyone about this journey.
This is gonna be So Cool!