Discussion Starter
•
#1
•
Hi, first time posting here.
I currently have a 2010 KLR 650. I don't really like it because I find it too big, too high and too heavy. All that for a bike that's not really at ease on the highway (the engine purrs at 70mph but doesn't like much more).
Here are all the motorcycles I had so far (one at a time):
1- 2006 Kawasaki ZZR250
2- 2004 Suzuki V-Strom DL650
3- 2008 Yamaha XT250
4- 2014 Honda CB500X
5- 2010 Kawasaki KLR650
The bike I liked the most, and that I kept the longuest, was the XT250. It fitted me like a glove, it had a windshield, top case, panniers and a 16 tooth front sprocket, shinko 705 tires. I did some camping trips with it and it was awesome. It could hold 62 mph all day even fully loaded.
I sold it because I met my current girlfriend and she wanted to ride with me. It was possible on the XT but a bit cramped.
I then bought the CB500X, a dream come true (or was it?)... it turned out it was the bike I liked the less in the bunch. Very uncomfortable riding position for me, the handlebar was high and wide (and that's what I like), but the footpegs where strangely too far back, with a seat that was too wide. It gave me a lot of pain in the hips. And there was some buffeting (not as much as the vstrom but still annoying).
So I sold it and bought my current ride, the KLR. Based on it's reputation and a short trial ride. It's an ok bike, I really like the torque of the engine and the riding position and general comfort is great. It has a lowered seat but stock suspension. I wouldn't use it on anything gnarlier than a gravel road, it's much too heavy for me and there is a lot of plastic to break. Even when riding in town, it feels less enjoyable and more like a chore. I just did a valve adjustment and it took forever (at least 8 hours). Compared to the valve adjustment I did on the XT (1 hour)
And here I am, trying to choose my next ride. My girlfriend currently has some neck problems, so she rides very rarely and only for short distances.
My criterias are:
1- it must be able to maintain 62mph (100km/h) loaded (with camping gear) in normal weather and on relatively flat surfaces. I know that in heavy front wind it could be less, even the KLR struggles sometimes.
2- easy to maintain (no shims for valve adjustments please!)
3- able to ride 2 up for short distances and low speed (40 mph max)
4- must be possible to add a windshield, top case and hard panniers
5- low seat height (max 32 inches)
What I find interesting about the TW is the comments I read about how it's so easy to handle off road. I would really like to try off road riding, but never got to do it for fear of getting hurt or braking something on the bike. I did try a little with the XT, more like forest roads, and it was ok. But the TW looks like it would be fun.
And maybe that's the keyword here, fun. I don't want performance or looks, I want something easy to ride, that becomes like an extension of myself. Something easy to work on and that I can customize on the cheap. The XT is all that, but is a little squirelly on the rough (from what I read, since I didn't experiment a lot).
One last thing, I compared the TW and the XT on cycle-ergo and I don't know if my eyes are playing with me but it almost looks like there's more space for a passenger on the TW than the XT? If you look closely on the 2 pictures, there's more space between the 2 persons and the passenger's legs look more relaxed (the passenger footpegs looks lower). Is the seat longer on the TW?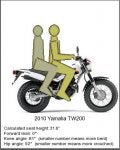 View attachment 192778
Thank you for your help and all the great information and ride reports on this wonderful forum!
And sorry for my poor english, I'm from Quebec ;-)