I don't like the idea of my exhaust header and the front of my engine being sand blasted so I made a front mud flap for my TW. Bought a generic flap for a pick up truck at my local auto parts store and some stainless screws and lock nuts. Made a mock up from cardboard and fitted it then traced it onto the mud flap material. It's flexible enough to withstand hits but still rigid enough not to get sucked up into the fender by the tire like a softer rubber one can(don't ask).
Here's the source of the material I made it from. Got enough material left over for about 3 more!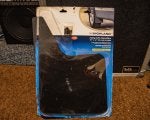 There is still a strange problem posting photos going on here at the forum. I used the exact same procedure for all three photos yet the third one shows only as an attachment.