All stock parts are from a 2006 Yamaha TW200 with very low mileage when parts were removed. Probably under 500 miles. Anybody that wants to check out the bike that I had can check it out
here
. Recently sold the bike and I'm going to be listing up the TW200 parts that I have for sale. I will post up all that I have so please stick to what is posted and don't ask if I have items. I will post all that I can find in the garage.
The forum only allows 5 images per post, so I am going to separate the posts. I apologize in advance for the multiple posts, but I want to post up the pictures for you guys to see. Thanks for looking!
All prices are OBO and I prefer local pickup (Los Angeles area) but I don't mind shipping. Keep in mind buyer will cover cost of shipping and PayPal fees of 3.5% unless money is sent as "gift". I will ship any way to accommodate the buyer, but prefer Priority Mail due to the ease of use. Please post any questions in the thread or PM.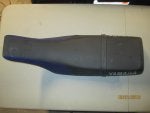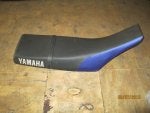 Black/Blue Stock Seat. Very clean condition, only used for a couple hundred miles before I replaced it. No cuts, tears, wear!
$SOLD