Discussion Starter
•
#1
•
Some of you will have noticed that I've been drooling over the TW225 Special Editions for some time now. They were made for the Japanese market in two colours, for one year only in 2007, to celebrate 20 years of the TW – just one thousand of each colour.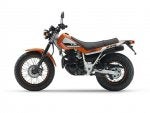 Far from rare in Japan, they have been subjected to just as much customisation as any other TW over there, to the point where finding one in good clean original condition is getting more and more difficult. Over here in the UK, they're like rocking horse shit. To give you some idea of just how rare, here's a chart of TW225's in the UK, and this is both TW225's and Special Edition models lumped together (the log book/registration makes no distinction between the two).
Of the two SE's I've seen so far in the UK (both orange), one had been "messed with", and on enquiry, the other had several cosmetic problems not shown in the pictures, to the point where it was a "shaggy dog" story.
So I went "hunting" on Japanese bike dealers web sites instead. The first thing I found out was that the Japanese language does not lend itself to "digital translation" – to the point where was looking at pictures for information like a comic book. Despite this, I managed to find a TW225SE for sale in near enough perfect original condition.
Having now spotted my quarry, there was just one small problem to overcome – it was in Japan, and I had no idea how to communicate with the seller. The UK dealer I bought my imported TW200 from over a year ago was basically an idiot, who had sold me a bike that had a few "teething problems", to the point where there was no way I was going to trust him with this one. So after a bit of searching, I found a bike dealer in London who was importing stuff from various auction sites in Japan, largely sight unseen (he has had some absolute dogs in the past).
Still, he had a healthy turn-over – so I figured "who dares wins" and gave him a call. I emailed him the link to the bike, and basically said "Fetch". To my utter amazement, he actually agreed, and sent his Japanese counterpart trotting off to get it, carted it half way across the Island to his holding pen, waiting for the next container load to be assembled. Four figure deposits changed hands, and we settled down to wait. There was no "tracking" on this, just a lot of mutual trust from both sides, and equal amounts of patience.
Three long months passed, until he finally said "it's here", then another two months while it was registered in this country, a rather lengthy and involved process that I was relieved not to have to go through personally. All the bike need to get it through its MOT (road worthiness certificate) prior to UK registration was the steering head bearings, and a front tire – other than that, it was reported to be in "pristine condition".
The delivery van was booked last week for collection yesterday morning, with delivery set for late last night.
It's here – after the long wait – I've finally got her ……..