Discussion Starter
•
#1
•
Hello ,
I bought my TeeDub here in Beirut, Lebanon from an idiot of a dealer who registered it as a 200cc bike from 1996.
After some research I felt like it's more of a 125 especially since it's slow as hell especially uphill, and looks like a 125 if you google image search TW125 ...
Can you help me using the clues I'll post?
Chassis number is DG07J-002316
Engine number is G315E-002303
My main use for it is touring up mountains and such. Will a 125 take a beating?
Is it a 125 to begin with?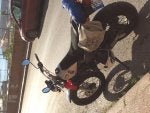 I'm scared.