Discussion Starter
•
#1
•
So I was out doing the weekly shopping tonight (that's right, on the TW, wife's out of town with the car). I loaded up on a weekly ration of Rockstars, Ramen, and frozen veggies (all (10/$10)), did the self-checkout thing, and cool-ly mosied on out to the W with my MX helmet in my cart feeling rather bad-A about my endeavor. As I was just about sure everyone in the parking lot was noticing how awesome I was a young couple in front of me (and by young I mean like 18 or so, I'm only 28, so they were really young) deliberately changed the path to their car to stop and gander at the Dubs.
The kid walked around the bike, pointed to this and that, then crouched down by the engine and kinda sat there with a look of
"WTFreak IS this???"
I casually walked up, made sure they thought I was cool, (you know with the MX helmet in the Fry's shopping cart) and they promptly verified it was my bike. When I confirmed that it was the kid about jumped out of his pants yelling "I've never seen an electric dirtbike before, Is this a HYBRID?" I paused for a moment and tried to find a reason he would ask such a stoopid question. After a long period of awkward silence he could tell I was struggling to answer so he began to explain. "I see your second tailpipe, for some reason it's capped off, and looking at your engine I know it's bigger than my 125 but smaller than my dad's 600, and it all looks kindof different..." Me, not knowing whether he just insulted it, or me, or has just discovered his ability of fine optic observation, continued staring, searching. He finally clued me in, saying, "It say's "Electric" right here," and he asked again, "is this a hybrid?" Finally pulling my head out of my butt I let out a loud and long open mouthed "oooooooooohhhhhhhhh, thaaaaaaaat," which slowly led to a laugh that I'm pretty sure tipped him off that I thought he was crazy. I then explained the storage canister was a fine look-alike but not exhaust, It was a 200cc engine, which aren't found roaming the streets very much, and that "Electric" sticker was because waaaaaay back, when they first made this bike, Electric Start motorcycles were a big deal.
I figured I would have been able to hear the disappointment as I so sharply burst his bubble. I didn't though. We went on to talk about the mods that I have done to make having the TW as my daily driver a little easier. He gave me a short story on how he and his dad loved to ride MX but there wasn't a bike they felt they would also ride on the street. He said he would ride the TW, and that he was glad he saw it, and even though it's not hybrid, he would look into getting one so he could ride around on the street.
Then I loaded up my ammo-cans with ammo (rockstars), my collapsible basket with Ramen and veggies, and cruised off into the Arizona sunset, even more bad-A.
What's a strange encounter based on a misinterpretation of the TW that you've had?
P.S. Here's a few pics of the Hawg, And I don't think I'm cool, I'm a nerd and I know it.
"Dual Exhaust"
"Hybrid"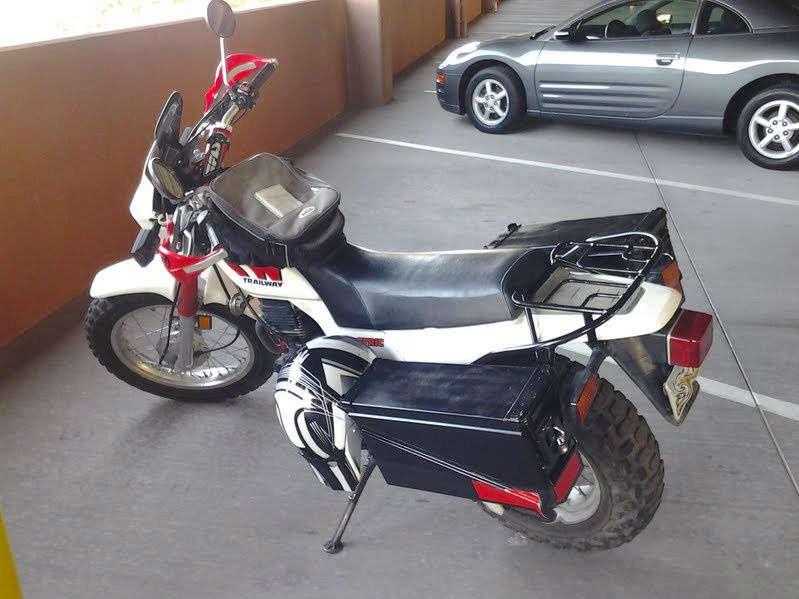 [post='Here']http://tw200forum.com/index.php?/topic/4096-aha-the-other-one-descendedtwo-dots-no-longer-a-newbie/page__p__38506__fromsearch__1#entry38506[/post]is my build thread if you wanna check it out! (guess I need to figure out how to do that correctly)