Discussion Starter
·
#1
·
So I finally took the plunge and got a hitch-carrier so TW-hauling duties can now be spread among our other vehicles other than my P/U truck. Plus next summer I'm planning on taking a long trip with my wife's 4Runner and wanted to bring a MC with me without having to tow a trailer for one MC.
The hitch carrier I bought was made by Zieman about seven years ago. It's VERY heavy-duty. Zieman (at least here in So.Cal.) is known for building some of the best (and $$) flat-bed trailers of all types you can get. It seems for a time they also built hitch-carriers but seemed to have stopped six years ago when the company was sold to a larger trailer company. I found this one on my local Craigs List.
All that aside it's heavy (~70 LBS) but seems very sturdy. I had originally thought about building one from scratch but eventually decided against it. Had I built one though it would have been very similar to how this one is constructed. The only thing I need to "fix" is I'm going to add a pair of tailights since at least on the 4Runner the rear lights seem to be blocked. May not be an issue on our two other trucks (wider) but having some additional lights would make me feel better.
Here are some pics: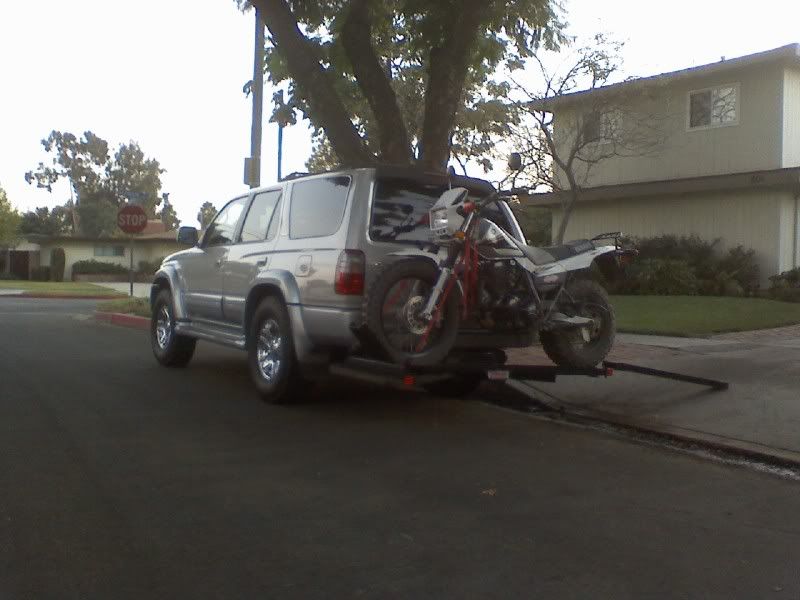 --Kevin