Discussion Starter
•
#1
•
It arrived today! I had to buy one to see what it is like. I bought the DC-CDI-P and the P stands for programmable.
The advance curve is programmable via a comm port on the box and a USB port on your laptop. The rev-limiter can be set at your desired RPM or it can be shut off. There is a wire for a tachometer and one for a neutral light. I don't know if this box will light the stock neutral light or this one is in addition to the stock one. I will find out. I think one can also shut of the kickstand and clutch safety switches -- my first motorcycle didn't have either and it came from the factory that way.
It does need a battery to work. I guess if the battery is totally dead you are SOL but I have heard just a whisper of electricity is all the is needed to get the engine running.
The total fee was $198 including shipping and a 6' programming cable. It took about 4 or 5 days to get to Commiefornia from The Czech Republic using DHL so shipping might be cheaper to east coast locations.
All I need now to to get out there and do it. I really think advancing the spark on these little engines will wake them up. Reports to follow in the not to distant future, if the weather gets a little warmer and if the smoke clears up.
I think this link will work:
SPARKER DCCDIP - IgniTech P?elou?
Igni tech wires and box::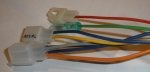 Yamaha stock CDI wires: