Discussion Starter
•
#1
•
First and foremost, Thank You for this wonderful site. Lots of info and some pretty colorful characters.
My name is Jeff and I have been lurking around your site for about two weeks now. I had to join because you guys, and ladies, would not let me look at any pictures otherwise.
I am 40 years old. About a month ago, my buddy's wife's little brother got a bike. He had been bugging me about wanting a KLR for about a year and a half. One day he calls me up at work and asks to drive him an hour, one way, to go look at a bike and he wanted to bring it home that night. I ask him if he found it on craigslist; yes. I search it out and find 2. I asked which one, and of course it was not the one that I would've picked. I try to steer him towards the other one, but he is insistent on the one he found. I told him to keep me posted as to arrangement with seller.
After work and waiting for word, he calls and says that the guy had sold it. So I told him to take a hard look at the other one. He was reluctant, but I insisted. An already long story shorter, he "missed out" on a 2009 bone stock, with bald back tire, $3,500, 1,800 mile bike and ended up with a 2011 2,000 mile bike with just about every Happy Trails add on they ever made, beautiful KLR for $4,100 cash. He was happy, that made me happy.
After getting it to my place (he had to hide it from his dad, where he still lives) he was not in the shop more than 5 minutes and he says, "Now you have to get your out."
Yeah right. I have not been on that bike for over 7 years, since even before my first born.
Well, I did drag it out. 1977 TT500. In dire need of some TLC, I set about it. Searching for parts and "farkles", (a term I was unaware of until this site) that I could never afford in the past, I find a 1988 TT600. I call the guy a few different times arranging the purchase since he is 2 hours, one way, away. All set for $1,300, cash in hand and checking over truck for the next day's pick up, he texts me and it started out..."Well I hate to do this and go back on my word, but..."
And you all know the rest.
Super bummed, I set out on a quest to find another bike. In doing so, I start seeing a recurring theme about a little, what we called clown bikes. Delving a bit deeper, I knew I NEEDed one. I have the TT tuned up now to a one kick bike, but that thing has broken me in the past and I am not really wanting to relive that. I'm frail.
Started searching all over. Nowhere. Nothing but new. Placed a WTB ad and got a call. Not yet in my possession, and I hope I do not jinx myself with this, but hoping to pick in up next week. Will hopefully update.
Never even sat on one of these, but I know I want one. My wife and all my friends think I am straight up nuts for wanting one. And a 200 to boot. They think I am mad. So hoping to prove them all wrong.
An Iowegian plow boy, my other hobby is Case garden tractors. Here is one I did over the winter.
1972 Case 644 (not all complete in this shot)
A pic of the old pig just after carb clean and oil change after 7 years of abandonment. I now find that it needs a base gasket...booo. Obviously, the front end needs rebuilt as well.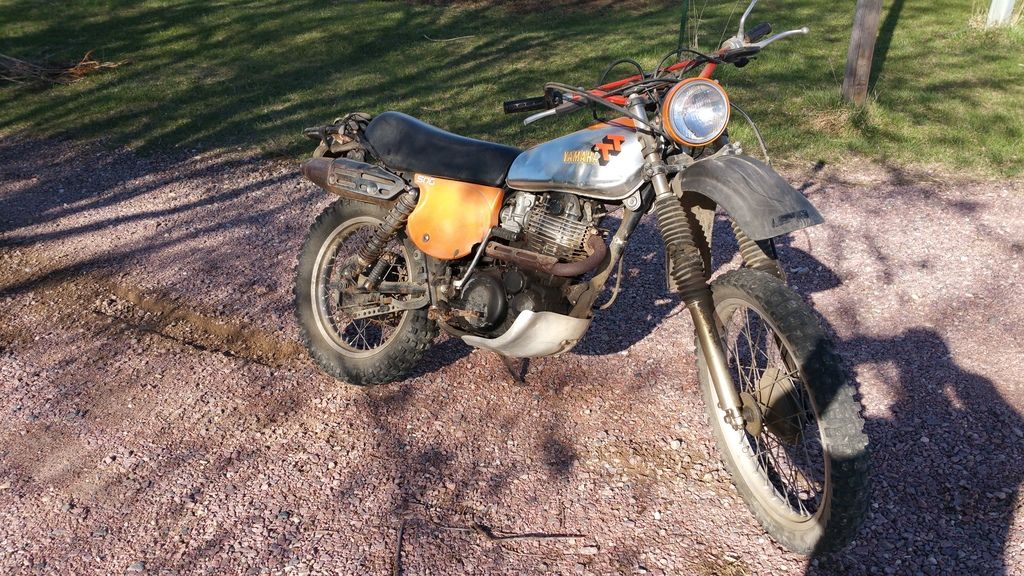 Have I worn my welcome out yet?
Sorry, just excited.
Very nice to have found this great bunch.
Hello, and Thank You.
Jeff.