Discussion Starter
•
#1
•
Over the weekend I removed the carb and took it down to basics to see what was going on with the slow return to idle and some other idiot things it was doing. It was obvious that lots of folks had poked around in there as the screw heads were abysmal and much of the jets assembly was jiggered with..Then I checked cables, slide, all the moving parts and could not identify the culprit. I even ran it through the HF ultrasonic tank several times to make sure it was clean. (Used the coffee basket from the Starbucks coffee pot for the jets & small parts). Wifely doesn't know about that yet...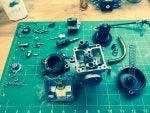 Then, late in the evening I was looking at the carb diagram and said I don't remember seeing one of those little springs!
In fact, I did not find the tiny little spring that is #8 in the diagram that resides above the needle collar and keeper on the needle (and maybe closes the main jet when the throttle is not open?).
Where to find one? On line of course but backordered and etc. Local dealer, closed on Monday, had one today, 75 mile round trip for $1.99 part.
Now the question for the carb gurus out there. IS THIS THE CAUSE OF THE SLOW RETURN TO IDLE?
It can't be that simple can it? Please let it be so!