Discussion Starter
•
#1
•
It's done. OK, it's not really DONE and never will be, but it's done in terms of what I set out to build it for.
I didn't realize it was done til I dug up one of my old posts on the old forum from '09, the day I sent a bare frame out for powdercoating:
http://tw200forum.com/forums/84983/ShowPost.aspx
I had no idea it had been that long ago. Lotta detours, destroyed parts sacrificed to the ModGods, midnight engine and wiring swaps and flawed ideas that didn't quite work out as planned. In short, it's been a blast and as a bonus I've met more good folks associated with this bike than any other I've owned. Name the genre, I've either owned or built one at some point, but I can't think of one that's held my attention to the extent that this oddball, low-tech, underpowered, ill-equipped, undersuspended redheaded-stepchild-of-a-bike has.
In reading my old post I realized that at this point I'd finally met my original objective of turning it into a bike that would take the place of my larger dualsports, would reliably carry me and all my crap, tools and gear for up to two weeks, quietly, comfortably at a leisurely "stop and smell the roses" pace, self-contained, without refueling for up to 300 miles in the dirt without seeing another living soul. I finally have my SHTF bike, and it started as a TW.
I noticed something of interest in taking inventory of my mods. I did a lot of custom fabricating here and there and a lot of it is still on the bike, but most of it was accomplished with stock parts from other bikes in the end. I paid full boat for a skidplate, handguards, some headlight brackets and fork boots. If you don't count tires, chains, sprockets and expendables this has been almost totally a "sweat equity and parts search" bike. Basically you just give it all the stuff that Yamaha shoulda given it from Day One, and yer done. Note how many of the parts came used, directly from Yamaha's non-stepchild bikes over the same years that the TW has been produced.
This evening's cursory inventory:
Powdercoated '87 frame
Up front: YZ80 fork tubes, TW lowers and springs, steel spacers, late-model disc conversion, XT350 speedo with trip meter and cable, XT600 brake line, Shinko 5.10-18 front tire, DayStar generic fork boots, Stock KLR650 bars, 1 1/4" risers, headlight cutoff mod to early TW switchgear, shortened signals relocated to bars, Garmin 60CSX in Ram GPS mount, 12V outlet/ battery tender circuit, Cycra Probend handguards
Out back: 2" extended swingarm, custom brake rod (fabricated from a Virago rod), XT500 aluminum brake arm, 26x9R14 ITP Terracross, 55/14 gearing, left snail adjuster welded to axle, reworked and relocated stock chainguard, stock shock (FINALLY tamed via the swingarm stretch).
The rest, so far:
XT350 3.2 gal. steel tank, TW/XT350 seat graft, quick-release seat pins
1978 Goldwing headlight, generic headlight brackets
Narrowed Honda ATV rear rack, Shortened rear sigs relocated to tail light housing
D2Moto doublewide cast steel pegs
Ricochet skid plate
Currently running Gen2 charging system and harness (I've had all 3 systems), backup CDI unit, upgraded headlight wiring, safety switches eliminated, upgraded KLR650 starter solenoid, Kawi EX500 horn
Spring-loaded YZ shifter, longer XT350 kickstand w/oversized foot
Lizrdventz (hi-low carb vents for water crossings)
Anyway, that's most of the hard parts and mods. I plan to go back to the late-model charging system with my new motor, ditch a little excess weight here and there (anyone wanna buy some Happy Trails pannier racks used for one honeymoon?)convert everything to L.E.D.s, lose the stock instruments and simplify the wiring harness.
THEN it'll be done.
Wait. There's the stealth exhaust I've been working on. Oh hell, I forgot about the dual sprocket setup... and rear disc brake.... aluminum ATV rear rim.
I'm skrewt for life, and all my other bikes are royally pizzed...
Before, circa '08. A realy clean stock '87 with about 800 miles on the clock. The bike taught a few people to ride and I kinda banged on it stock for a few months while I planned the build, then blew it apart: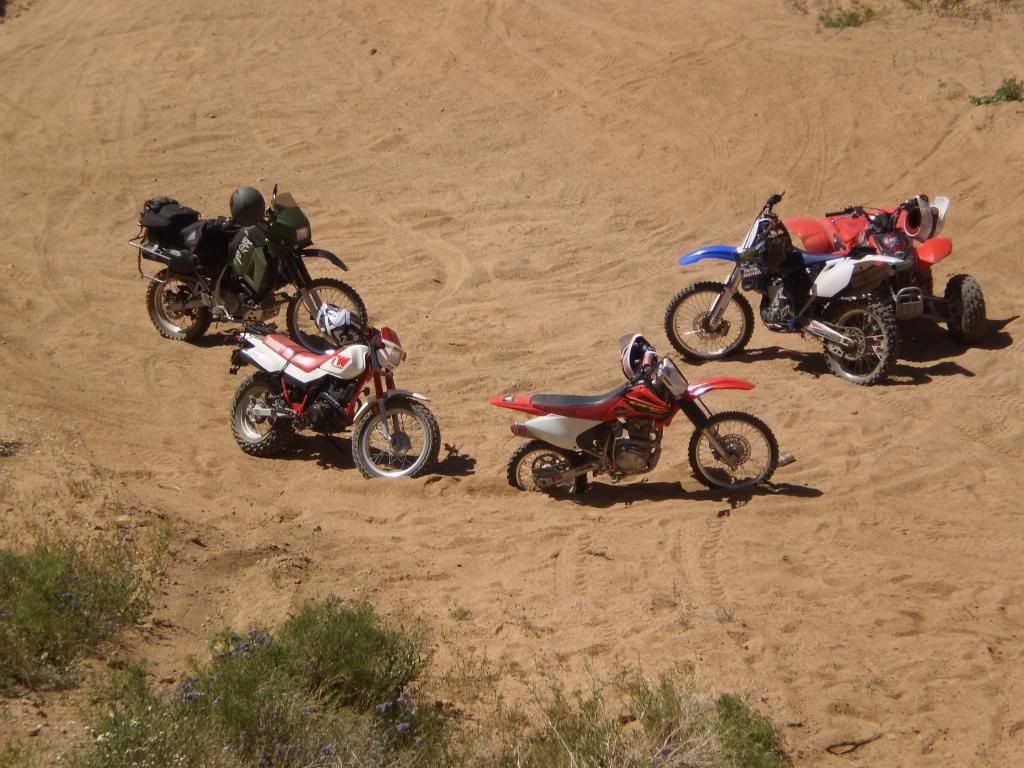 Not much remains of the original bike but its frame and paperwork. Powdercoated the original frame then built from there. Meanwhile we also bought a few more TW's, one of which became the basis for Purple's bike. Back then it was pretty easy to determine exactly what form the bike would eventually take. Guys like Gizmow, Ronnydog, Macbig and others were right in the middle of pioneering things like big tanks, stretched swingarms, ATV tires, dual sprockets, and most of the mods we kinda take for granted now. I just swiped a lot of their hard work, added a ton of my own, fired up the welder and a couple weeks later it looked more or less like this (minus the long swingarm, seat graft and a couple of other things). It's been an ongoing, rideable project ever since:
Obligatory "glamor shots":