Discussion Starter
•
#1
•
Or so they say...but I believe them.
Wednesday night my sister, and a close friend, flew in from Tampa, FL (Florida sunshine to 15* midwest
) to treat my wife and I to a show (AND sushi!). As tickets were purchased well before the "accident", and now not knowing how well I was going to be able to get around the arena on the crutches, I tried to get out of it. Also because I was not sure how good it was going to be (some of these last chance tours are not so great), but she was having none of it; "You're Going!"
Glad I did.
Not only was it a great show, it was a FUN show. The seats were good, the crowd (seen them as small as being carried in arms all the way up well past retirement age) was good, and the band themselves, well, they far exceeded my expectations.
Sometimes these are prerecorded and lip synched - just a couple mistakes proved that this was not the case.
Tony looked and sounded awesome, as did Geezer. Ozzy was unbelievably spry and crystal clear (I have seen him before when you couldn't understand a word he was singing), and logged a few miles back and forth on stage.
I am not sure who the young fella that filled in for Bill, but he was fantastic! Some might say blasphemy, but I felt his (drum) solo far excelled Tommy Lee's. You could actually hear a melody within it!
All in all - A great show and a great time. All the ones you know and love and then some (Children of the Grave and Snowblind), however, SweatLeaf and Planet Caravan were missing.
If a fan, and even if you don't think you are (some say they don't know who they are, but other than Deep Purple, I think Sabbath has some of the most recognizable power chords in rock n roll), get yourself and your sweetie a ticket. If anything like the show I seen, you will not be dissapointed.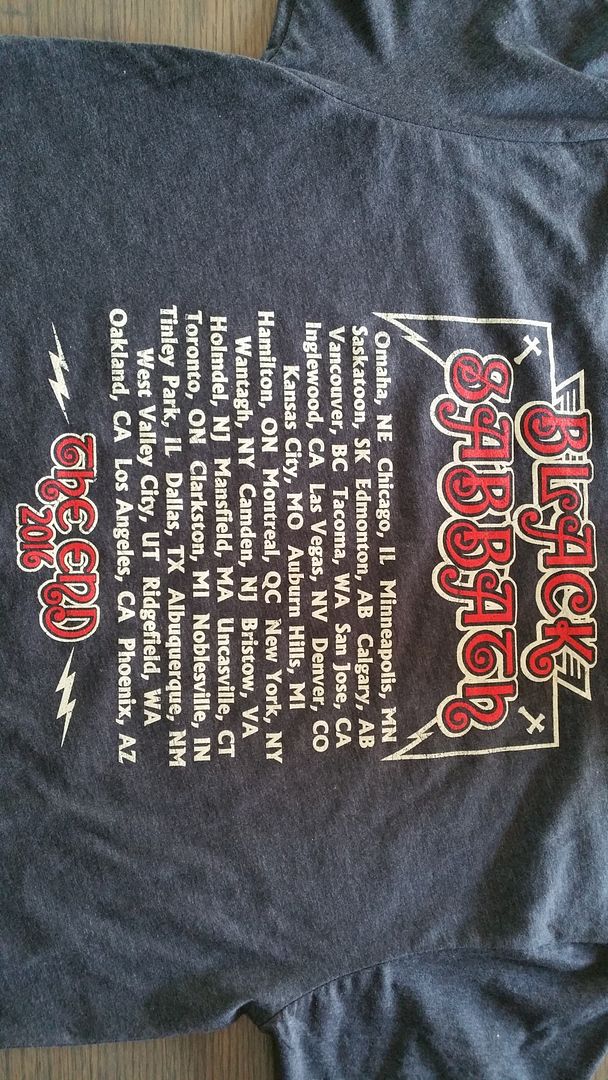 Black Sabbath Kicks Off 'The End' World Tour In Omaha; Video Available, Setlist Revealed - Blabbermouth.net