Discussion Starter
•
#1
•
Hi everyone!
I figured I'd make a separate post rather than just adding to the one about what I've done with my TW200 today in case it should be moved to the technical area instead, and make it easier to find if someone searches for trunks/tailbags.
I've been wanting something larger than a tool tube to carry things in, large enough for a trip to grocery store, etc. Something that would hopefully look good, attach securely, was lockable, and let me ride without worrying about a backpack, bungee cords and such that would fit nicely on my rear Cyclerack. Well, after much thought, window shopping, measurements, and budgetary constraints, viola... i think i came up with a solution and wanted to share in case anyone else cared to try it.
I found a decent sized toolbox at Home Depot that was all black, (once I took the stickers off), that looks like it was made for the Cyclerack. It fits perfectly, doesn't cover any of the seat, nor stick out beyond the rack edges. I didn't care for the name brand boxes that were 2-tone, Black/Yellow DeWalt ones, Orange/Black Rigid ones, etc. This one was the Husky 22" one, lockable with a padlock, plastic hinges that won't rust with trail moisture, tall enough to hold a gallon of milk and a couple bags of groceries for quick trips to store, or quite a bit of gear for a day trip or overnight camping.
Total cost for toolbox, stainless machine screws, washers, 1/2" conduit clamps, and nylock nuts was $24.94 w/o tax. Way less than the dealer installed trunk on my old KLR that was over $200!
Here's some pics for those who may want to see the final product.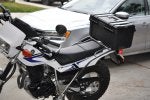 Thanks for checking it out and hope everyone has a great riding season!