Discussion Starter
•
#1
•
I saw this in the Classified section here posted by member greguw and thought one of us would jump on this beauty. After lots of thought and intrigue and no one stepping up I had to do it. It was a miserable drive from my home to Gregs that ended up being a full 8 hour round trip in bumper to bumper traffic but his bike is now in my garage and I hope I might get to keep this one because it is fully road legal and came with a real title.
Greg is a master builder of custom bikes and I can't believe he did not just keep this highly and very well built beast.
It is a 1998 Suzuki DR350 but rebuilt with lots of various parts from at least 4 or 5 different brand bikes, Suzuki, Honda, Kawasaki, Yamaha and I am sure some other re fabricated parts and pieces. Very well appointed and lots of work went into this one for sure. I have not yet tossed my leg over it because I am dealing with a nasty back issue at the moment but Greg was kind enough to do a domo ride for me at pick up and all looks and seems fine with performance and function. I will name this baby "Trail Hopper" since the local trails I have around me require short hops on local roads of around 3-5 miles from my home and this one will be plated and road legal but will always be more happy off the pavement. I don't have to do a single thing that I can see so far because Greg did it all already. Well done sir!
Now if I can get my arthritis issues worked out and keep my pals with the green backs away from it I just might be back in the saddle for another couple years.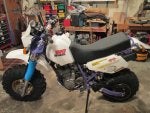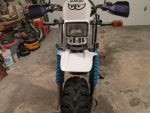 Thank you Greg!
GaryL