I've been procrastinating on doing a write-up for so long, but if I let it go any longer, I won't remember what happened, so here goes. Heads up, though. This is my first bike, and the first vehicle I've ever rebuilt (solo), so take it with a grain or two of salt.
Feb '15
I got a 1992 TW in Kentucky from a guy who never rode it, and who couldn't seem to understand going 4 states away "just for an enduro." It was his father's when he was a kid, and sat in his father's garage it's whole life, because they could never get it to run right. The father and son had only put 173 miles on it before giving up, so it was a steal at $1000. I found their problem, by the way. It was leaned out from the factory (for their location), and to make it go faster, they put a hole in the air box...(so glad they didn't damage the cylinder). When that didn't work, they tried to fiddle with the carb, but stripped the screws, and ruined the gasket with a screwdriver trying to get it open (didn't damage the carb itself except for a couple of cosmetic nicks). The bike was also scratched in a couple of places and had a couple of dents in the tank, not bad, but not pristine either.
So, over the next few months, I restored everything from the rubber hoses/gaskets, to the rusted tank, and fixed the tune on the carb. It ran good enough to start testing, and when I confirmed that it wouldn't strand me somewhere, I started putting some light miles on it (about 50). I also had the modding itch, so along with the restoration, I also changed out some things, like handlebars, pegs, exhaust, seat and other stuff I found here on the forum (Jimbo shield, Tinman's stuff, etc).
May '15
I took it to the DMV for the registration/license paperwork and to get my endorsement (first bike remember?). There was some trouble with the title the guy in Kentucky gave me, and he didn't want to help fix it, so after some strong language from the nice (to me) DMV lady, everything was resolved. I didn't need it to pass my test, but after I got the endorsement, I took the Harley safety course just in case, and it was rather enjoyable.
My first real trip out of town did not go so well. I had just put a new chain on the bike while trying out a dual sprocket setup just for fun, and made a very newbie mistake. I routed the new chain under that piece of frame where the foot pegs attach. If I hadn't heard a strange noise and gone home early, the chain would have sawed completely through the frame. There was about 3/8in of frame tube left, Whew! So, I had to take off the nearby components and load the bike in a borrowed truck to get a relative to help me weld it all back up.
While it was taken apart, I had since been looking at the forum for other things to do to it, and found the 225 conversion. It may seem like I was doing unnecessary stuff to an otherwise working bike, but at the time, I was neck deep in "real life" and wrenching on my little TW was my only hobby.
Sept '15
After much research, learning, and number-double-checking, I tore down the engine and did my best to preserve all of the original parts (in bags/boxes, all labeled). However, before I could order all of the conversion parts, I ran into another "real life" moment and ran out of money. So the bike sat in pieces for several months (inside boxes, in the house).
Early summer '16
During this period, I saved up and did even more research, and decided that if I were going to rebuild this engine, I would do it right. So, I contacted Frank at Engines Only, and over a few weeks, convinced him to make me one of his kits for the TTR230. I also ordered a cam and valve springs from WebCam and sent Frank my head to be fixed up (new valve and seals, port/polish). The kit took a couple of months to get back, because he had already stopped production of that particular bike kit, and it was only thanks to a few brave folks on the forum going in with me that he was willing to start again. While waiting for the kit to come back, I also ordered a new K&N intake, and a Lectron carb (They are so freaking nice!).
Early Winter '16
I got the bike out and took stock of all the parts I had with me. In the beginning, working at my place was fine, but that changed, so I started looking for a place that I could work without losing stuff.
Feb '17
One of those climate-controlled storage facilities had a deal on a tiny 10x5 unit, and didn't mind me using it to tinker, so I got a nice tarp for the floor and a 5ft folding table and went to town. Since then, the engine has come together! I started with the bottom end, and for those who haven't seen my other thread, used the wrong shift fork rods. The long one punched a hole through my right case half. The problem was solved beautifully, thanks to TWBrian!
After that, everything went pretty smooth, and I have to thank the guys at the local machine shop for the help and advice. Who I won't thank, are the local dealership, who noticed I was new and gouged me every step of the way. I'm still breaking it in, but it runs and idles great! However, I ran into a problem trying to start it. When I noticed my battery was dead, I thought "no problem, I have a kickstart," AS IF! The new engine has so much compression, I would need to weigh 350 pounds to kick it off! (Though, I'm working with a couple of members about fitting a BW200 compression relief system) So, I jumped the battery off my car, and there was no other problem. I've since replaced the battery, but am unsure whether the '92 voltage regulator will fry my new AntiGravity battery (Does anyone know? I'm not against buying a post-01 regulator if I have to).
Current/Future
Now that the bike runs, I've started thinking about the function and the looks. When I started looking at the TW as my first bike, I just knew that I wanted to make a mini ADV bike, and I kind of did, but over the course of the build, I've learned much more about bikes in general and the TW specifically. After thinking about what I really wanted out of the bike, and considering what the TW is actually good at, as well as what would be good for a new rider, it made more sense to remove the ADV stuff, and just get an ADV bike when I'm a more capable rider. So, while I still have my storage unit, I planned on selling the extra stuff I've accumulated, and some of the mods I didn't use, in order to fund the full retro-hollow conversion (I know, I'm crazy, but it's almost finished, I promise! I'm not addicted, or anything). On that note, have there been any updates on ordering from Webike? Alternatives? Don't get me wrong though, I love the look of the dorky, quintessentially-80's TW, and will eventually get another to actually ride AS a TW! I'm only replacing the cosmetic stuff at first, like the seat, tank and headlight, while leaving the suspension, swingarm, and handlebars like they are (basically a flat tracker). As I feel more confident in riding, and unless my tastes change, the last step would be to get a set of sport looking handlebars and low slung exhaust, and lower the stance (basically a cafe racer). The more I write, the crazier I feel, so here are a few problems and maybe some tips I ran across.
Build Problems/Tips
The new timing chain on TTR's is a B*#&@! It falls off the lower sprocket so easily! If I didn't know that the new chain type was less prone to stretching (so I heard), I would have bought another used crank to save myself the hassle of setting the timing again in the future. Does anyone know a trick for that?
I ended up using the original TW counterbalance shaft, because after looking through the threads involved, I saw mention, but never consensus about which to use. I even seem to remember someone weighed both, and found them very similar. Did I make a mistake?
Watch that the exhaust valve rocker shaft is FULLY inserted, because the head bolt threads are surprisingly soft. You know what other threads are easily stripped? That bronze looking bolt under the swingarm bolt. I'm not sure why mine didn't want to go in, but I had to replace it.
Take a steel friction plate from your old clutch and weld (or ask someone else to, like me) a handle onto the side. The tool will save you so much frustration when torquing the clutch. On the same issue, the rest of the high-torque stuff can be done by stuffing a rag into the gap between the Primary Drive Sprocket and the Balancer Sprocket. (Please correct me if this isn't right, because I probably screwed something up in that case.)
I found the Cyclepedia manual to be quite handy if you like pictures, but the diagrams in the official service manual are unquestionably necessary.
CYCLEPEDIA Yamaha TW200 Online Manual
You'll need to widen the case mouth for the bigger sleeve, so either get comfy with a grinder, or have a friend do it. I don't own one, and had no help, so I had to pay to get it done, which sucks if you don't know anyone in town, and are forced to pay more than the cost of the grinder.
There is a device that can change a mechanical tachometer signal to a digital signal, so the xt350 Tach in the pics below could potentially work. Problem is, it costs $500...
I just found out (while writing this page) that we have a wiki! How come nobody mentioned it?
Main Page - Tw200
I'll add more of these as I think of them
Specs
TTR225 Crank with new style timing chain
TTR225 Transmission
TTR225 Clutch
TTR225 Clutch Cover
Engines Only kit with 74mm cylinder, 11.5:1 JE piston, and gaskets
Ported/Polished head W/29mm intake port to match carb
WebCam camshaft grind #389a and new Titanium honeycomb valve springs
Nology Hot-Wire with spark plug "indexed" to face intake valve
Lectron 30mm High Velocity carb with 29mm ID and OD ground to match original intake boot
I'll post the exact metering rods they gave me when I find those numbers
Domino single-cable throttle to match carb
K&N Pod Filter with future rubber hose connected to the crankcase vent
DG V1 Slip-on exhaust, but this will change soon
15/47 final gearing, which will probably change
Lizrdbrth Oil Cooler
Pics
The Tool Tube and top box are temporarily attached just for this pic, so they might be a little off position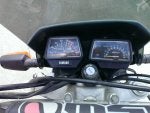 Wishful Thinking
My Work Space
Links to Part Sources
ENGINES ONLY The Performance Specialists since 1990
Web Cam Inc. - Performance and Racing Camshafts
https://www.lectronfuelsystems.com/
Nology HotWires Spark Plug Wires and High Performance Ignition Systems
https://procycle.us/bikepages/tw200.html
Links to Helpful Forum Threads
http://tw200forum.com/forum/performance-customization/13306-list-parts-you-will-need-upgrade-your-tw-214-225-up-250-cc.html
http://tw200forum.com/forum/performance-customization/7810-tw230-engine-notes-xt225-ttr230.html
http://tw200forum.com/forum/performance-customization/8921-tw-270-mx-efi-new-project-crazy-german.html
http://tw200forum.com/forum/performance-customization/19438-six-speed-transmission-229cc-report.html
http://tw200forum.com/forum/performance-customization/17064-6-speed-tw-conversion-output-shaft-machining.html
http://tw200forum.com/forum/performance-customization/3889-tw250-six-speed.html
http://tw200forum.com/forum/performance-customization/7568-big-bore-kit.html
http://tw200forum.com/forum/performance-customization/13615-another-226-6-speed-ready-action.html
http://tw200forum.com/forum/performance-customization/333-tw-larger-engine-swap.html
http://tw200forum.com/forum/performance-customization/16014-its-done-running.html
http://tw200forum.com/forum/performance-customization/15877-you-people-who-did-225-tail-shaft-conversion.html
http://tw200forum.com/forum/performance-customization/8103-ttr225-motor-conversion-parts.html
Bore and stroke - XT225 parts - Yamaha TW200 Trailway Discussion Forum
http://tw200forum.com/forum/performance-customization/19293-xr100-com-big-bore-kits-possibly-last-chance.html
http://tw200forum.com/forum/performance-customization/32010-lets-talk-compression-ratios.html
http://tw200forum.com/forum/performance-customization/317-performance-cams.html
http://tw200forum.com/forum/performance-customization/11608-sixth-gear-mighty-tw.html
http://tw200forum.com/forum/technical-help/6324-installing-ttr225-clutch.html
http://tw200forum.com/forum/tw200-classifieds/18050-tw-200-big-bore-kit.html
Here's a thread with stuff I did to my old carb, if it helps
http://tw200forum.com/forum/performance-customization/15026-ufo-interesting-math-problem.html
Thanks to everyone who pioneered this stuff, so that someone like me could have such success! Also, questions and feedback will help me learn, and I've certainly not covered everything in this post in enough detail, so I'll do my best to answer.
Edit: added pics