Discussion Starter
•
#1
•
Here is a universal type valve spring compressor that I have used for a number of years. While it is functional, it is kind of clumsy and difficult to get adjusted and positioned (just ask Fred!).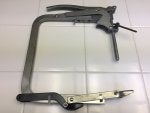 When I saw that Admiral had made one from an old C-clamp, I just had to make one myself. In this thread you can see Admiral's and also my initial unsuccessful attempt at using a Harbor Freight clamp.
http://tw200forum.com/forum/technical-help/19075-head-cylinder-repair-notes-2.html
Here is Admiral's.
I was able to find a 4" Husky brand C-clamp at Home Depot with a 3" deep throat that looked like it would work. Using a bench grinder, angle grinder, various hand files and a wire wheel I re-shaped the fixed end of the clamp as shown below. I did not have as much material to work with as Admiral's clamp, so mine turned out a little daintier than his.
Here it is positioned on a TW head.
Here is a close-up of it in position. Not a lot of extra room, but enough.
(p.s. thanks to Admiral for the inspiration and luckily, no hammers were harmed in this project)