Ok... long story (not so) short, a series of unfortunate events with the banshee shock and just getting plain old tired of swapping in and out, testing, trying to get nitro filled... I abandoned ship to pursue an endeavor for a quality designed part, which inadvertently led to a great experience.
Consulting my friend on shock options... I have to share this text message: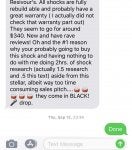 The cool part is after working with MSS with measurements and weight, they managed to handle biz with one of their front shocks since I was working off of the banshee dimensions, resulting in a much lower ($260) price point. Total was a little more because I had the shock body and spring powder coated.
Second cool part, as Fred mentioned to me in a post and became a legitimate problem was the extra travel of the banshee shock... there is approx 1.5 inches extra movement the swing arm gets, that lets the tire scrub the bottom of the seat pan when you hit big bumps...
MSS took care of that by hydro-locking the last 1.5 inches of travel to prevent that.
Going to install in the morning, will report back after test ride over varying terrain.