Hi all,
I have a KLX 150S (I think it is only available in South East Asia, but I may be wrong). After seeing a modified TW200 on pintrest today
>> THIS beastie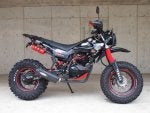 ,
I've decided.... been TOTALLY INSPIRED more like... to re-modify my bike and create a TW inspired-KLX.
As I have never even SEEN a TW in the flesh (and there are no TWs in my country), I was hoping that you guys could answer a whole lotta' pithy questions for me -- but if that sounds annoying to you, just imagine that we're sitting in a bar talking bikes, and you can show off all your knowledge and tall stories about TWs. That should help you.
ccasion14:
Unfortunately, there's almost no way I can buy a TW, or TW parts, here in Bali -- the range of motorcycles is very thin (EVERYbody has to ride scooters, here), unless you are willing to pay 130% import tax on anything resembling a
real
bike.
On a positive note, what is deemed 'street legal' is a very grey area, so I may get away what ever modifications I like.
For those of you who don't know, a KLX 150S looks like this:
But I've slightly modified mine to this:
My questions:
1. Do you think it is possible to create something
like
that Beastie (first pic) from my KLX? (I'm guessing I'll need a different head/clamp for the front shocks... and probably new shocks, a wider rear swing arm, wheels and of course, some monster tyres. What have I missed?)
2. How different does it feel to ride such a wide-tyred bike, compared to what I'm used to?
3. How much height am I potentially going to lose? -- looks like the wider tyres may be a few inches less in diameter... and I prefer a very tall bike.
Any input will be appreciated
JJ
p.s. I could wait until I have a KLX 250 .... or .... maybe I should practise on the 150 first and get it perfect on on the 250, dunno, eh?