Discussion Starter
•
#1
•
Well, I did it again.
I get something in my head and get all excited about it and go and make a ???poor??? decision.
I had been dealing with this guy on his 1996 TW. He said all stock and and great shape. Just a bit of hand grip rubbed off. New tires, new sprockets and chain, all done last year. Bad battery (wanted $1,500 if he had to have someone replace battery. Said I'd do it. Thought that that was all that was wrong) :sad2:
He sent on far off picture. He had had it since it was 2 years old. Bought from a lady and just used to check crops. 7,000 miles.
Anxious, and the only one I could find in that range, and trusting in his assessment, I said to consider sold. Had to wait for 2 weeks for bad weather so he could get out of the field and meet me half way. $1,250.
(what happened to the days of $200-$400 bikes)
I get there and see it. It is filthy. I mean filthy. Fork tube boots torn out and leaking all over. Engine covered in...just yuk.
I can fix it. Besides, I gave my word. I took it home.
Some degreaser and half hour with power washer, I am actually starting to like the goofy graphics. This is acually pretty sharp! Let's see how it rides.
First impressions later, as I really did not get enough seat time to completely evaluate. Don't think I got out of 2nd gear.
Set it on it's side to take a picture, I see smoke. Thinking that it was steam from water burning off, I look a bit closer. It is oil! Oil!
Discouraged, but holding head somewhat high still because not only do I own the bike, but I also own this, yet again, dumb decision.
Looking around this morning, I feel slightly better about it as I found this...
http://tw200forum.com/forum/technical-write-ups/2555-beginners-guide-base-gasket-replacement.html
Hat's off to you B-dub.
At least the whole engine does not need to come out. yeeeaaaah.
But I have a question. He lists a part number for the base gasket; 5vc-11351-10-00.
While talking to the nice lady at the place he suggests, I ask her to verify that gasket for my year. She comes up with a 5vc-11351-01-00, and there is about a $10 price difference.
Were these engines pretty much identical throughout the years and the first number is the "better" gasket? Is this the difference, or did they change other things and therefor, should I look all parts referenced in that thread by year?
Thank you in advance for you input.
Here is my new to me leaking bebooper...
I have the horn. It is just missing the nut and I didn't want it swinging. Also have the missing piece from swing arm decal. Washer blew it off. Any ideas on what adhesive to use to put it back on?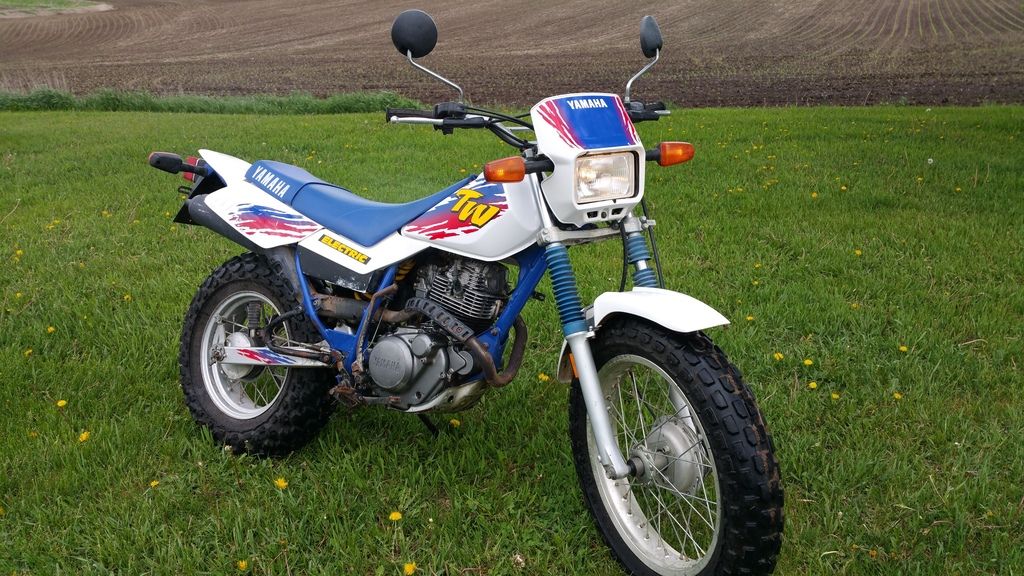 Holding out optimism that I can fix this. And hey, this now gives me an excuse to paint the exhaust while it's off. :encouragement: Will get to the fork seals later.
Thank you, Jeff.