Discussion Starter
·
#1
·
Hi guys, here's my next ride report, this trip was taken during the first week of May and in the intrest of fairness, it was my wife who was doing the TW riding (150 miles over two days) though I got elected to write her trip report so here goes!
My wife and I make a spring trip to Moab, Utah with some friends of ours just about every spring for the past five years. Normally we bring our Manx-style VW dune buggy but this year (long story made short regarding engine problems and roll cages) we didn't. We took our quads and a day before we were set to leave my wife asked if we could bring a TW so she could go sight-seeing.
We brought our '07 TW because it has better tires and a lot fewer miles on it then the other two, though the wide handle bars took some getting used to for my wife, she eventually grew to like them. For the quad fans who might be reading this we also brought my wife's Honda 250ex and my Honda 400ex. Both had been out-fitted with extra skid plates from Ricochet which worked great!
It's a 740 mile drive from where we live in So.Cal. to Moab and that was hard on the bikes; the tailbag on the TW ripped and a piece of road debris just about removed the rear taillight on the TW.
"Are we there yet?"
On Tuesday of our trip I spent the day riding with a friend who had brought his dunebuggy and my wife spent the day out on the TW shopping in Moab (no pictures of that, just imagine my wife spending my money buying T-shirts) then she took the bike on a tour of Arches National Park. Then she ran out of gas half-way through Arches (she was able to make it back to town on reserve).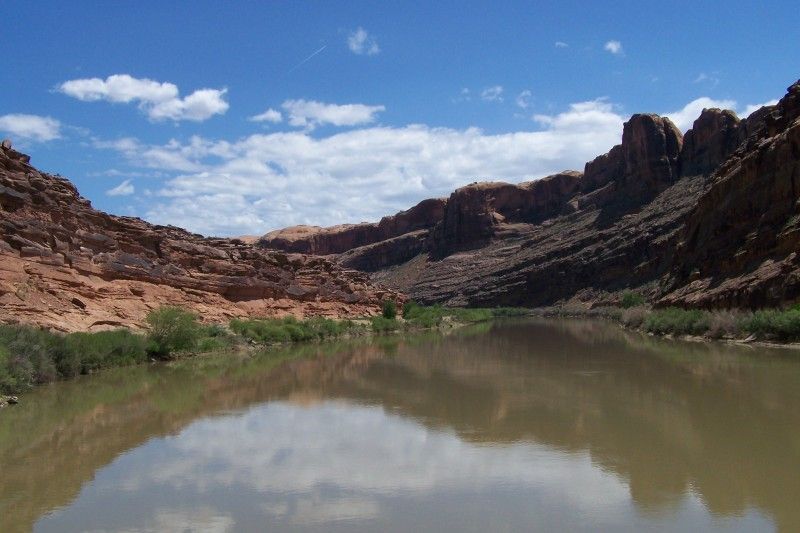 The Colorado River
A thirsty TW posed for a pic at a turn-out in Arches
Arches is truly a magnificant place. It's filled with things like this
Following her return trip to town to buy gas she completed her ride through Arches then met me back at the campground where we were staying.
The next day we spent most of the day out on the quads touring the back-country. For the quad fans on the forum let me say a four-stroke quad is the way to see tour the trails of this place! The trail's mainly consist of sandy clay, lots of solid rock and more red dirt then you've ever seen! On the TW I found the riding to be quite challenging (I cussed a lot) but on the quads we we're able to go just about every place we wanted to!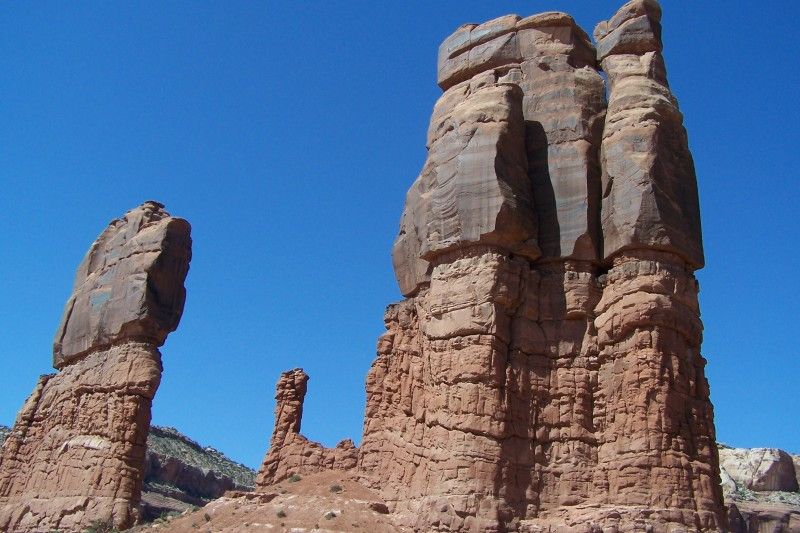 Determination Towers.
Following our morning ride on the quads my wife jumped on the TW and took-off on a ride to Deadhorse Point State Park and Canyonlands National Park.
An incredible vista on the way to the plateau Dead Horse.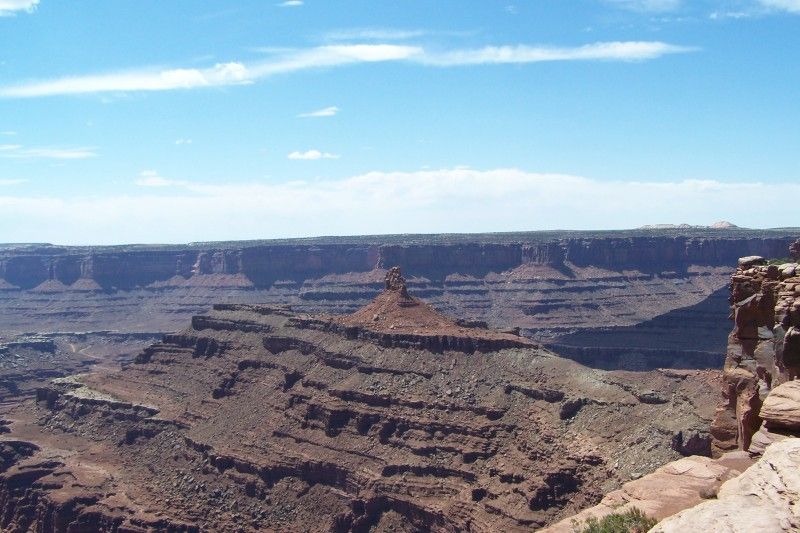 The view from Dead Horse. Despite the fact that it's a state park there are many dirt trails a person can explore (on a street-legal MC or truck) which is cool.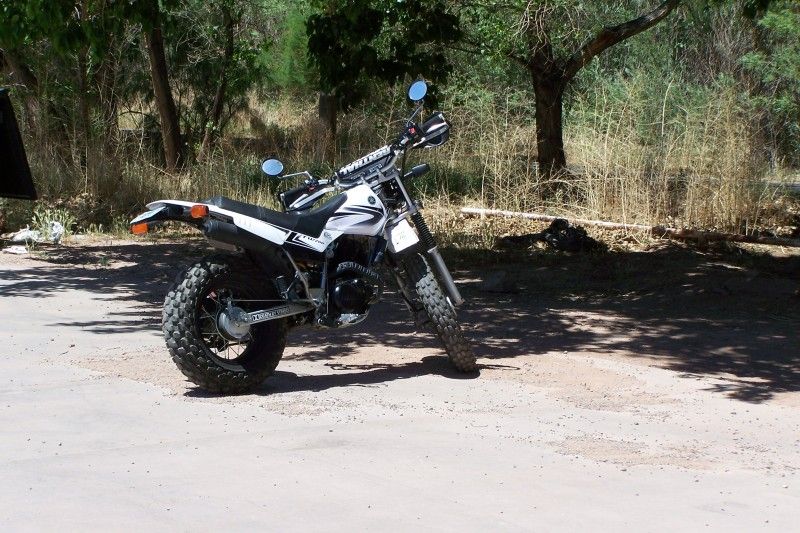 The TW parked in a (rare) shady spot. She tells me it was a real hit with European toursists which peppered her with questions about the bike. The CA plate also garnered questions about whether she had actually ridden it from CA.
Our next quad ride was to Chicken Corners and Hurah Pass. More incredible riding in a breathtaking place!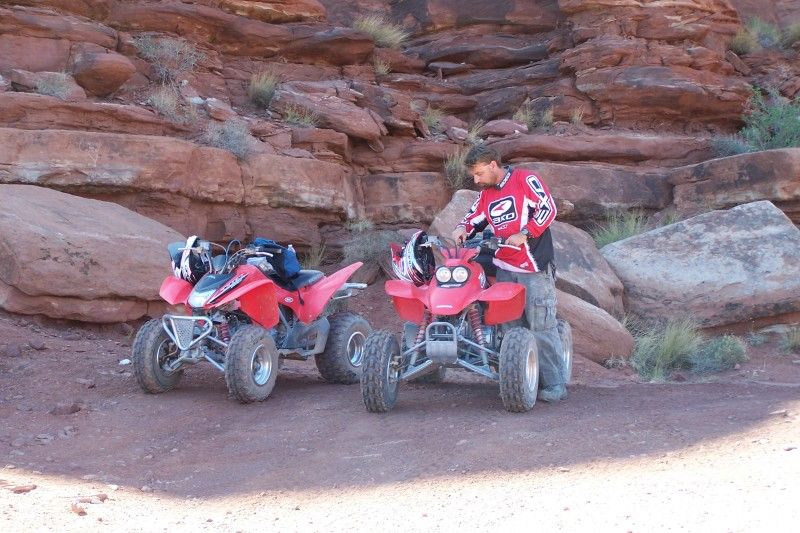 Me and the quads. All the slick rock and some pavement riding took a toll on their soft knobby tires, but other than that the quads and the TW held-up very well.
The view of a vista we stopped at on our way home somewhere near Brianhead, UT.
If anyone has the opportunity to go to Moab, DO IT!!! For an off-roader, it is truly magnificent and worth whatever it takes to get there! My tip is to go in the spring or fall though when the weather is cooler. The weather for our early-May trip was great (50's at night, high 80's one day), however the year before the same week saw cooler weather and some rain.
Thanks for reading, hope you enjoyed!
Total Mileage for the TW was 150,
My 400ex quad did 150 miles as well
My wife's 250ex did 90 miles (because she spent much of her time on the TW)
Kevin