Hey folks, been away a long time. Seems not everybody's still with us unfortunately but the group has definitely grown. Anyhow I got another TW so here I am. Obligatory Craigslist photos: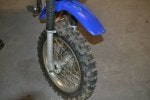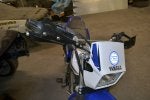 Anybody know which handguards those are? May get some new plastics for those eventually. You guys can probably notice the mods that have been done. The stock tail light and signals were included, though it looks like at least the rear harness was cut. I'd like to go with LED's all over later. Also came with a rear Cyclerack, mirrors, a 55t and the 50t sprocket, with a 60t mounted, rubbing the guard lightly, stock front tire as a spare. I think I've got an old TW204 laying around still but I'll probably want a new one. I'd had the TW203/204 combo on my first Tdub but that's why I'm here...
It's setup great for chugging along in the woods but I'm aiming to go south this summer, maybe Natchez Trace Parkway then into East Texas, or down into Florida in the fall. Maybe both if I'm so lucky. I'd imagine by the time I find a washout situation on the road, knobbies ain't gonna help nothing, but I'm curious what kinda life I could expect out of the street tires vs other mild options. I was thinking the Pirelli up front might help a bit but probably a waste of rubber, same goes for the stock knobby. I'd guess the TW203/204 are quieter than stock as well. Anyway, just speculating before I probably buy the 203/204 combo and play it safe. I'd like to ride the occasional trail around the house or at events but I'd say I'll be happy just to get away from the house at this point :laugh:
I'll probably go back to stock gearing, as well. And I forgot how bad the stock seat hurts. Oh, and a leaky carb and base gasket but I think those two will act right if I order their replacement parts and look at the old ones angrily. That stuff plus some luggage space and a jacket, I should be set for awhile. I saw mrbracket is out of the trailer thing but found another company doing them. It's tempting to figure one out just for a spare wheelset.
Anyhow, before I get carried away, any advice on tire life and road tripping is appreciated.