Discussion Starter
•
#1
•
On my way to work yesterday, I noticed a "neighbor" (I guess if they are within a 10-15 mile radius, we call 'em neighbors) must have pulled out a bunch of old tractors to..., well, not real sure why yet.
Anyway, on way home they were still there, so I jump on the Whistle and head that way.
I honked when I got into the drive way, but no one came out. I made sure to look respectful as I was not sure if anyone was watching.
And respectful I was, for I dig old tractors about evenly with old motorpickles.
For some of the more urban members, I submit some shots of my Americana.
A couple of John Deere model D's; one styled and one unstyled.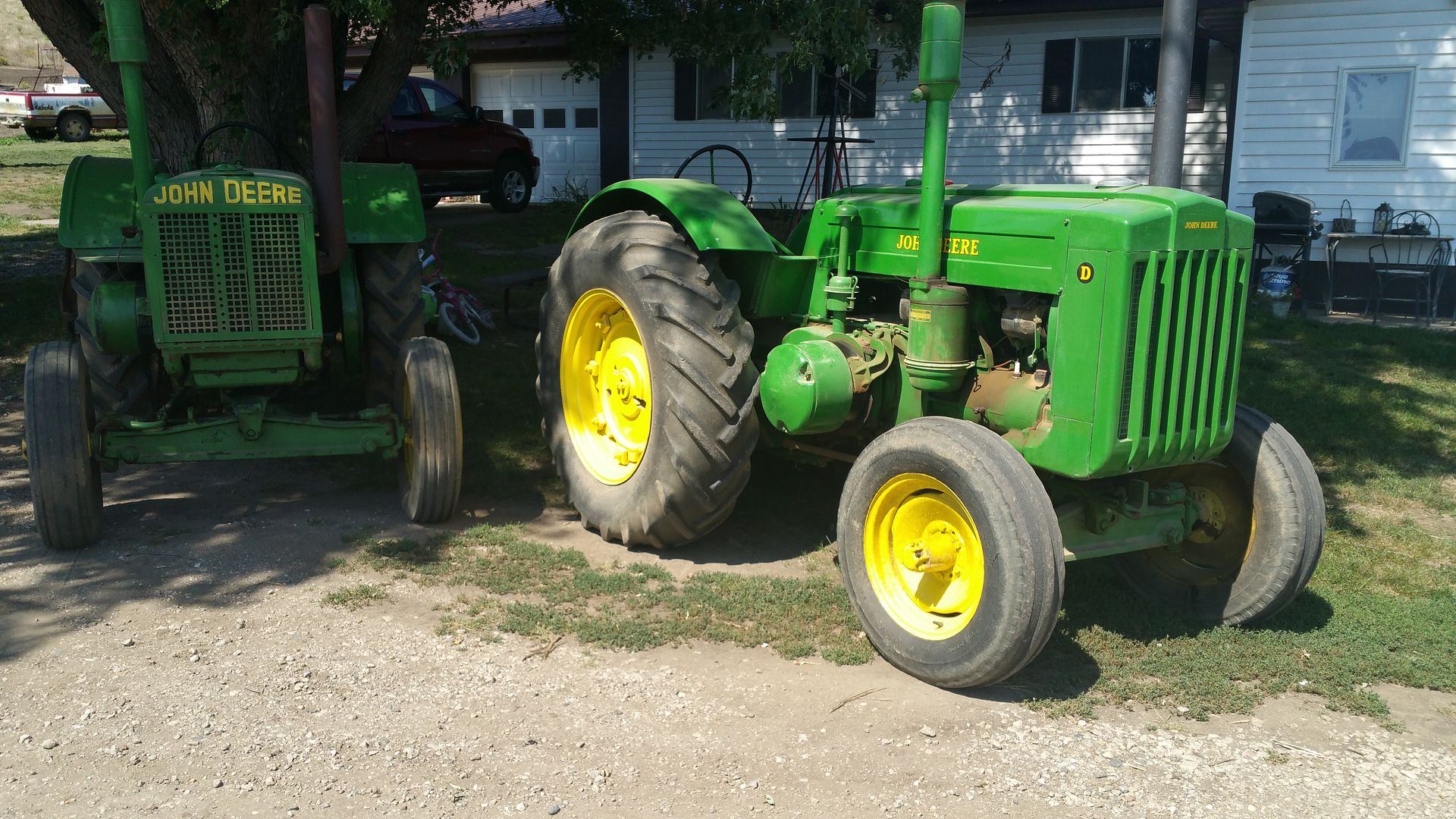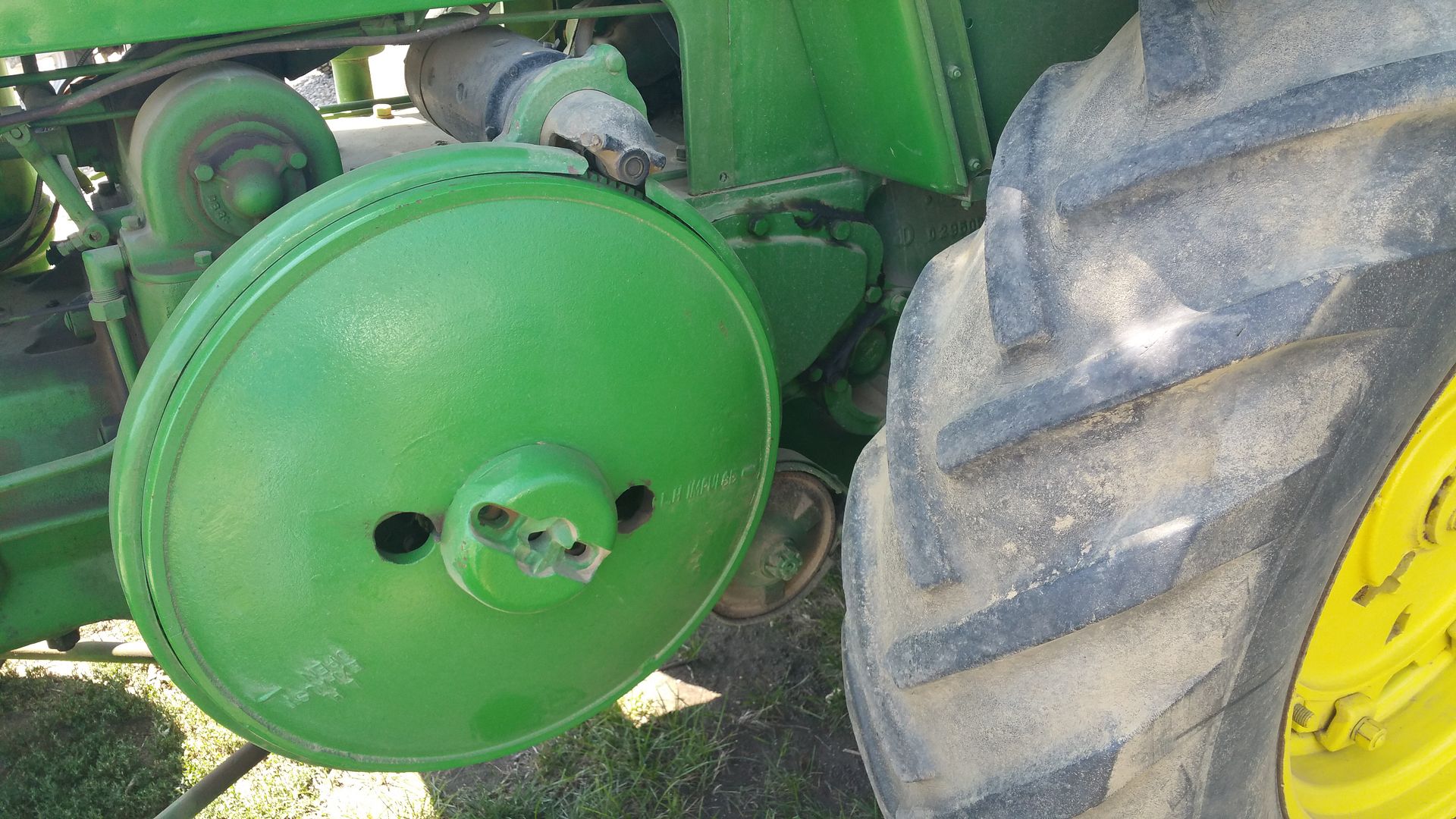 The styled one is obviously newer, and even is equipped with electric start.
The unstyled one, not. Check out that flywheel! The bottom of it is about at your knees, and the top about your chest. You can see the points on it to align to get it ready to roll over BY HAND to start engine.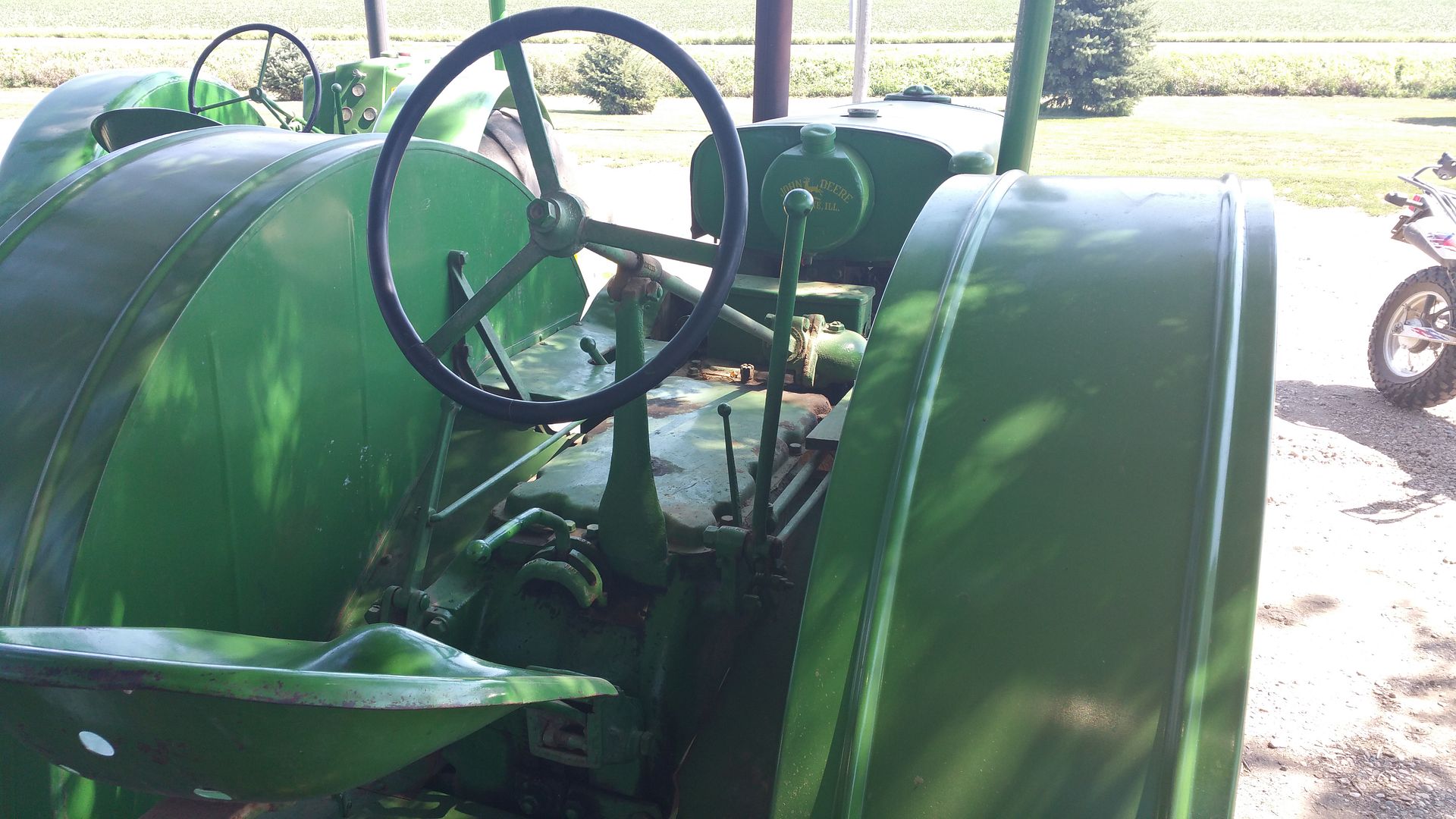 Think the TW seat is uncomfortable? Try 6-8 hours aboard this baby. You can also see the differences here in the rear fender design between the styled and unstyled models.
A Farmall F something (F12, F20, etc.)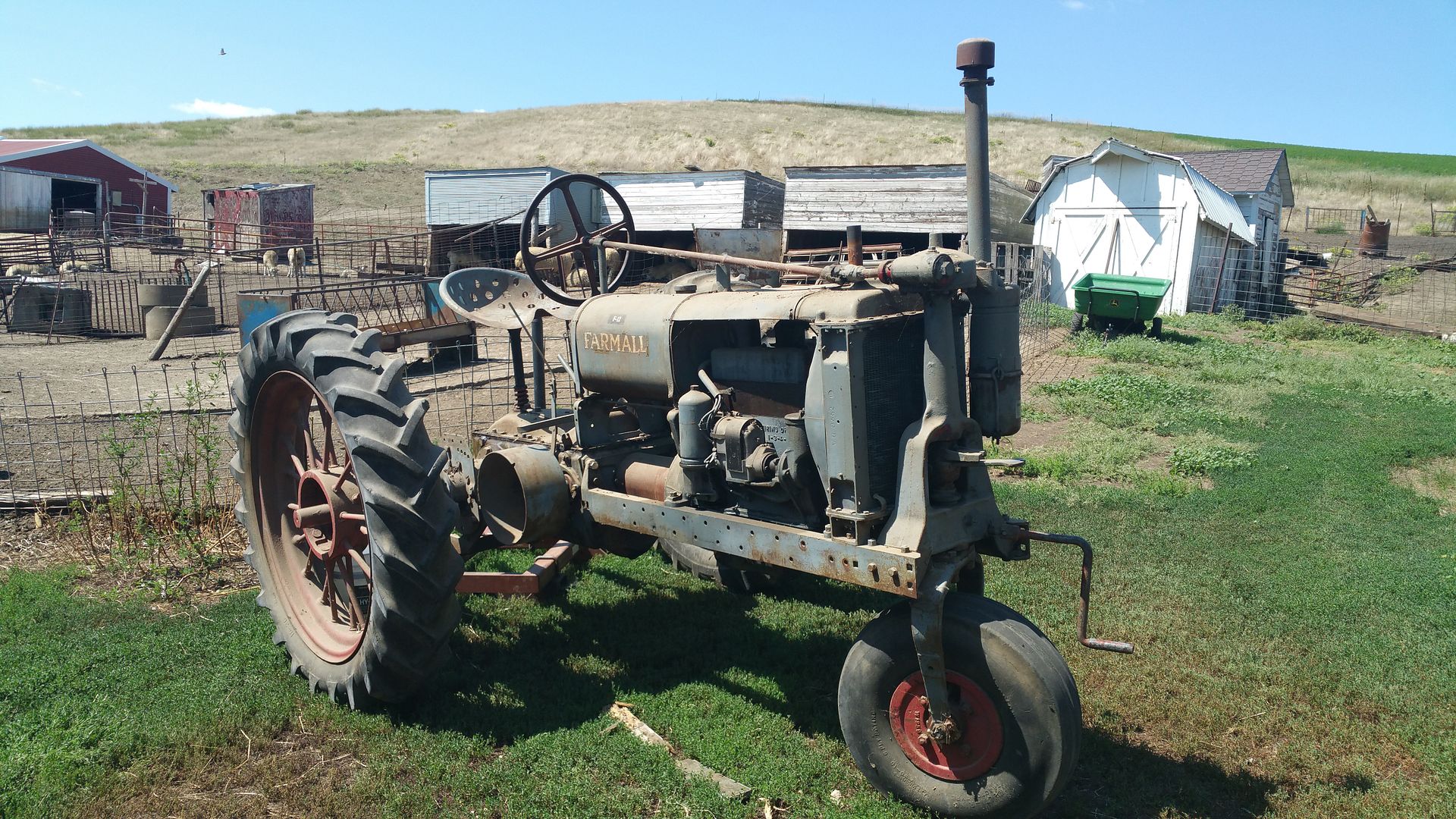 Another F tractor. Because of color, this may be a war era tractor. Notice the tricycle front end.
A decent looking Massey Ferguson 44.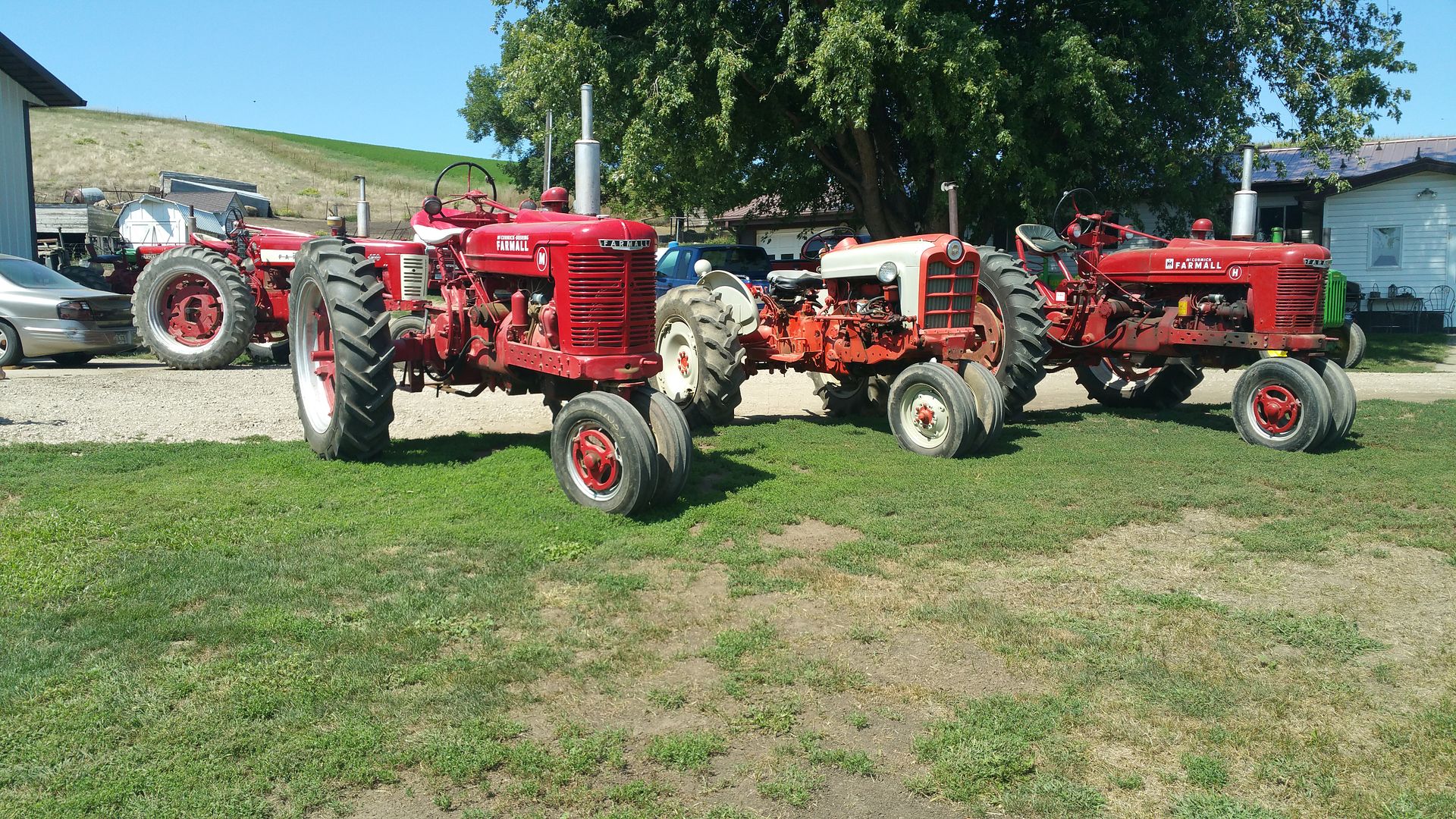 Left to right. A Farmall model M, and old Ford Workmaster, and the M's little brother, the Model H.
That MF 44 again, with a Farmall 450 in the distance.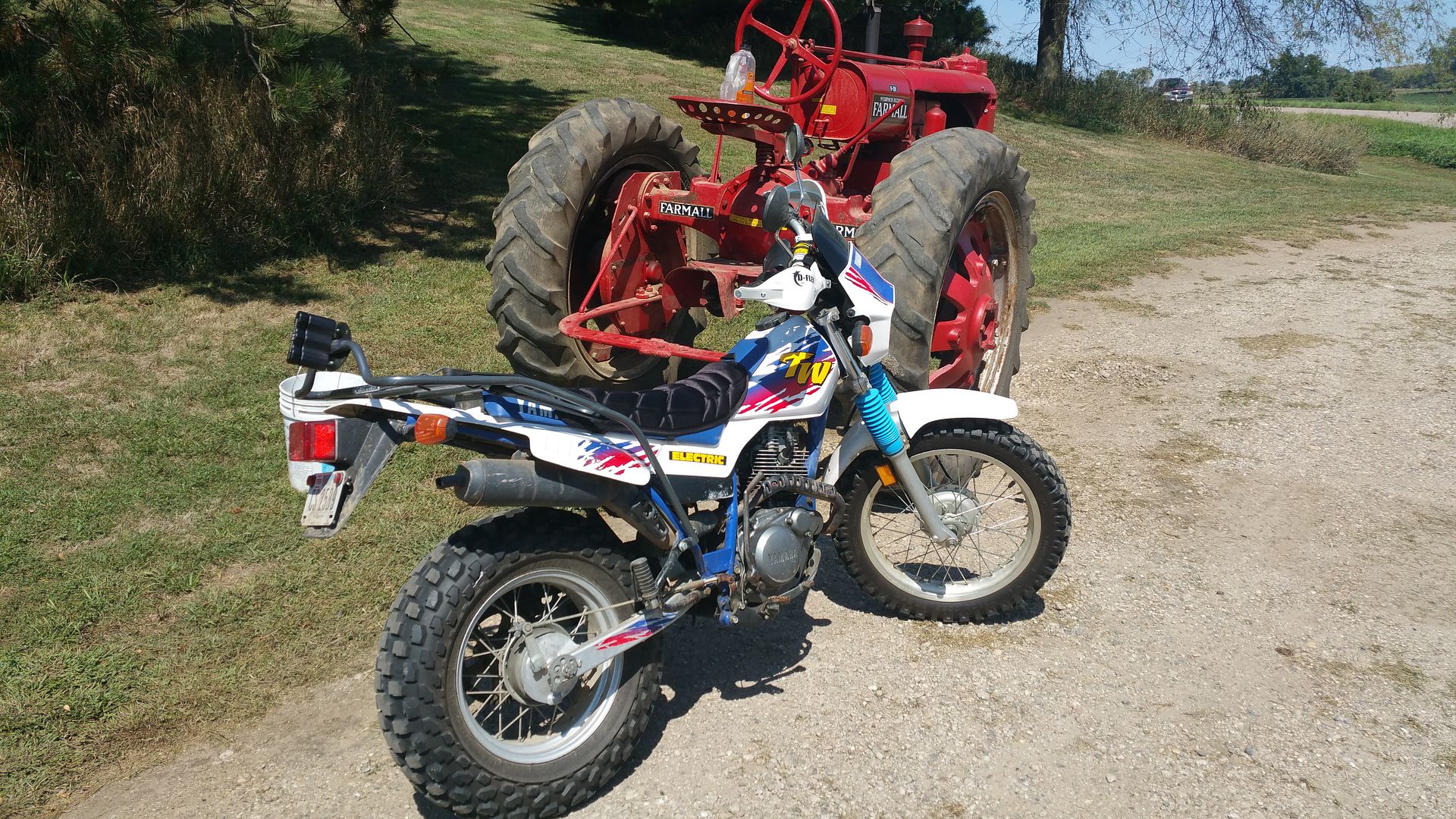 On way back out the drive, another F series Farmall. Showing the drive system here. Also notice, rear wheels are on "inside out"; to accommodate for different row crop spacing.
I have heard stories all my life about being sent into the ditch on other side of road if you failed to start these correctly.
Just a pretty shot of an alfalfa field on way home.
Back home in back yard. This is soybeans here, the lighter colored field off to the left is corn. For reference, those houses in the distance are a mile away.
And, believe it or not, but I ain't fibbin', on the cool down lap once getting home, I was rounding the track and a flatbed went by with a cabbed John Deere 5020 AND a cabbed 8020. I do not believe I have ever seen an 8020 in real life, and it was quite a coincident to see.
It was a good day.
-today, I seen there were more out in his neighbor's yard (same family, diff. place), so I may need to go for another ride!!!