Discussion Starter
•
#1
•
I was out with a friend last week riding in the Bender Creek area of Idaho and had a little mishap. We were on our way back to the loading area after a fun, scenic adventure when I didn't stay tuned to the task at hand and had an opps.
I had just come around a banked corner on the trail and came upon a little bridge crossing a stream. My front tire slid up to the side of the rail of the bridge and me and my bike fell over on to the right side about 4 feet below the surface of the bridge.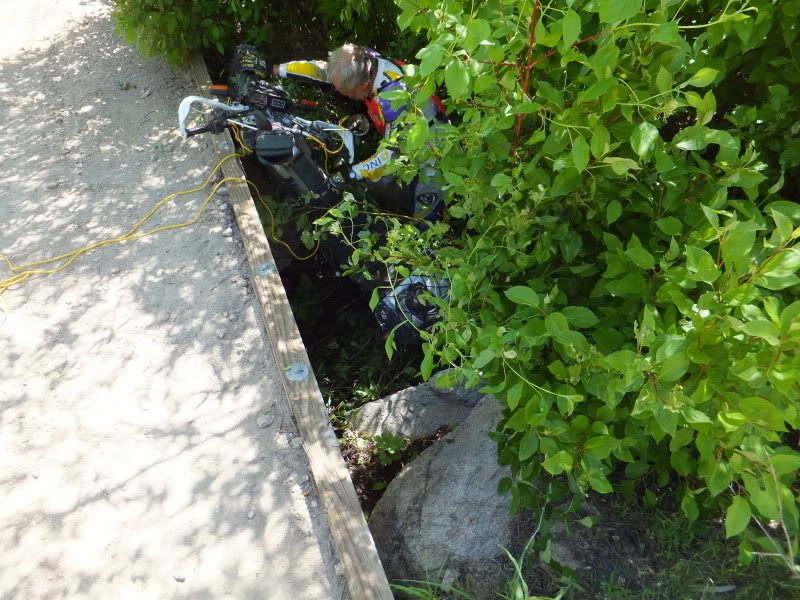 There were willows enough to prevent me from hitting the rocks and creek below. My right leg was pinned under the bike and the engine was winding up. I had a bit of difficulty reaching the kill switch. I extracated myself, looked at the situation and decided that my friend Larry would be back soon and I needed the help getting my bike out. Thanks to his help, we salvaged the bike.
When we got it upright and partly out of the terrible place I had chosen to park it, I started it and inmediately notice a very loud noise from what I think was the top end. When I tried to go, the bike just had no power. I had to ride in 1st gear for a while to clear it out a bit. Eventually I was able to use 2nd gear and even 3rd gear where applicable but there still seemed to be much less power than before I missed bridge.
Now a couple of days later when I start it, there is still noise from the top end that was not there prior to the incident.
Can any of you real experts (and I say this with respect) suggest what the issue might be.
Happy Trails All
Ron in Boise