Discussion Starter
•
#1
•
I was thinking earlier today about those nice but expensive "pivot pegz" today after riding through some local sand roads and 2-track. I'm still riding the stock skinny foot torture devices and with some nerve issue I've been having in my foot (toes and arch). I'm just not enthuzed about riding next weekend like I should be.
Enter thought number 1: why not use some BMX pedals that give the rotation that is supposedly the nice thing about the "pivot pegz", with an even larger platform... Before I invested any time into it, I found that some bikers are already doing it... Believe it or not Harley, Triumph and some rat bike guys! Here's a pic (hopefully not too small):
No School Choppers - Custom Footpegs
Decent pegs can be had for under $25 a piece and I'm sure someone on here could figure out how to limit the spin if it is a problem.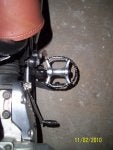 Just thought I'd share what I found