Discussion Starter
•
#1
•
All,
My name is Allan and as of last Thanksgiving was bitten initially by the BW200 bug while atving on my Honda 350x three wheeler at St. Joe, MO state park. Initially, I started to research having a BW200 myself and one of my co-workers who is into the whole adventure riding scene told me to forget about the BW200 and look into the TW200.
I found this forum and joined on Dec 8th while watching Craigslist and this forum for any opportunities somewhat around central Illinois. Low and behold on a trip back from Nashville, I was checking the forum and found a guy in IA selling a mint 2015 with only 54 miles on it. I know that this was posted about and I called him and the rest was history..for $2,700. I couldn't believe I was able to find one practically new around me...and that day I was back home by 11am and put almost 50 miles on it in the one day mostly riding on gravel/dirt or some atv trails around me.
Anyway, I've read up on the fat front end and how it was done by both tiny wheel 200, skin walker , and mmannddalla and quickly accumulated the front end pieces from a bw200, a new atv front tire, additional rear wheel and a duro atv tire....The wife wasn't very happy when the week after I brought the new bike home, I had torn the front end down.
Right now I've followed skin walker's guide for the rear wheel and am attempting to be patient while everything dries..then I get to try the duro mount!
At this moment of modifications, I have BW200 triple tree, forks, new brakes, new bearings, new atv tire, and a new front fender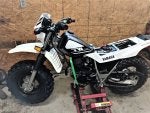 . I purchases a 93 tw200 front brake, a new brake cable, used the 2015 front brake cable switch and reused the handlebar. I followed mmanndalla idea on the mounting of the headlight/dash without any issue.
Anyway, I just want to say a huge thanks to all of you crazy dedicated T'Dubbers out there and for additionally documenting this for noob's like myself!
I've attached a few pics of my process so far and obviously have a lot of customizing to go before it is ready.