Next Thur, Fri, Sat & Sun (May 16, 17, 18 & 19) is the Annual Jersey Devil Hunt (JDH) riding & camping in beautiful and mysterious Wharton State Park & Brendan T. Byrne State Park. HQ and all rides will originate at Turtle Run Campground in Egg Harbor City. This is a very loose sidecar event that has grown over the years attracting folks that want to and have prepared their rigs for off-road purposes. Needless to say most of them are Urals and 2-wheel drive (but not all). This is the down & dirty version of 3-Wheeling.
Some of us bring dual-sports too and last year I decided to just be a monkey (passenger) in someone else rig on the sidecar rides and rode my TW with Jersey Jeeper and my friend Luis other days.
This is tent camping (like $10.00 per night) though there are shelters and trailers you can rent cheap too. If you have a trailer or van you can sleep in, great. We have a huge open field with water and electricity nearby. Restrooms with showers are a 5 minute walk.
Last year it rained so hard I rented one of the big trailers instead of pitching my tent in the mud. It was a great couple days of riding, eating (we eat out meals), drinks and telling tales around the campfire.
Last night I threw the TW on my carrier to bring to work so my friend Robert (XT225) can bring it home to his Toy Hauler. He'll bring it and his bike down for me.
I'm bringing the TW as a "buddy-bike". I'll be hauling my XR250 and Ural on my Kendon trailer next week. Loading and packing everything else up tomorrow because I have 3 days of work hell (16-18 hour days) Sun, Mon & Tue. Plan is to leave a day earlier than everyone else so arrival on Wednesday. About 100 mile ride for me but believe me, it's worth it. Come join us for a day, days or the whole thing. Get the fence out of your butt and blow the cobwebs out of your scoot.
Here's the link to Turtle Cove:
http://www.turtleruncampground.com
Last night: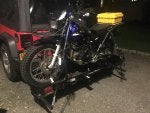 Looks stunning: