Recently bought a 2007 TW and the guy said the clutch was slipping a bit when cold (but fine when hot) so I thought I'd just replace the clutch friction and metal plates. I ordered new OEM Yamaha plates from Rocky Mountain ATV*MC (where I pretty much buy all my MC parts from) and I noticed the new metal plates look different than the old ones, new ones aren't symmetrical. The parts fiche says "336-16324-00-00 (replaces part #137-16324-00-00)" so I'm wondering two things, are these plates a newer version that are physically different and if so how are they installed (orientation...)?
Here are pics of the plates:
Original:
New: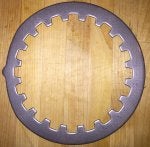 ****************************************************************
EDIT:
To avoid having to scroll through the multiple pages for an answer, the answer to my questions were eventually provided by Yamaha USA.
Me:
What is the correct orientation for the new design plates?
Yamaha USA:
Thank you for reaching out to us. These clutch plates should be offset as shown in the image below: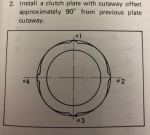 Me:
Any idea what the purpose of the nubs are?
Yamaha USA:
This shape allows more oil to enter between the clutch plates to improve lubrication. Thank you for your inquiry.
So to sum it up, after installing the
first
of 5 friction plates in the clutch basket, the first steel plate would be oriented with 'nub' at 12 o'clock position (as shown in image below) then a friction plate then another steel plate with 'nub' at 3 o'clock and so on for all 5 friction plates and 4 steel plates.