Discussion Starter
·
#1
·
Purple and I tend to plan things pretty loosely and rarely get to where we originally intended because we generally find too many interesting distractions along the way. Works for us.
This was the scene in our 'hood last week. High winds fanned a fire northward out of Cajon Pass into the desert community of Oak Hills, California:
We awoke at O'darkthirty west coast time to catch the coverasge from Ground Zero, New York, then fired up the bikes and started our day intending to survey the burn area, visit some kin who live in the burn area but survived the ordeal unscathed, then hit the dirt with no particular destination in mind.
We started with breakfast at the Mountaintop Cafe near Wrightwood, California. Our little cafe was recently commandeered by Hollywood and you may notice it for 2.5 miliseconds in the latest Frito Lay commercial:
Purple's bike, mid-makeover. Our bikes have seen some hard use in the past year and both will be seeing some radical new mods in the coming months. The first step was a good sprucing up before hunting season, a few TTR parts like the stainless exhaust and cable-operated choke:
After breakfast we discovered my battery had gone south. No big deal. Divert to Cycle Gear in Victorville, pick up a replacement on their excellent warranty and be on our merry way in a completely different direction. While I was installing the battery Purple spotted this WW2 Jeep which was drawing a crowd across the parking lot: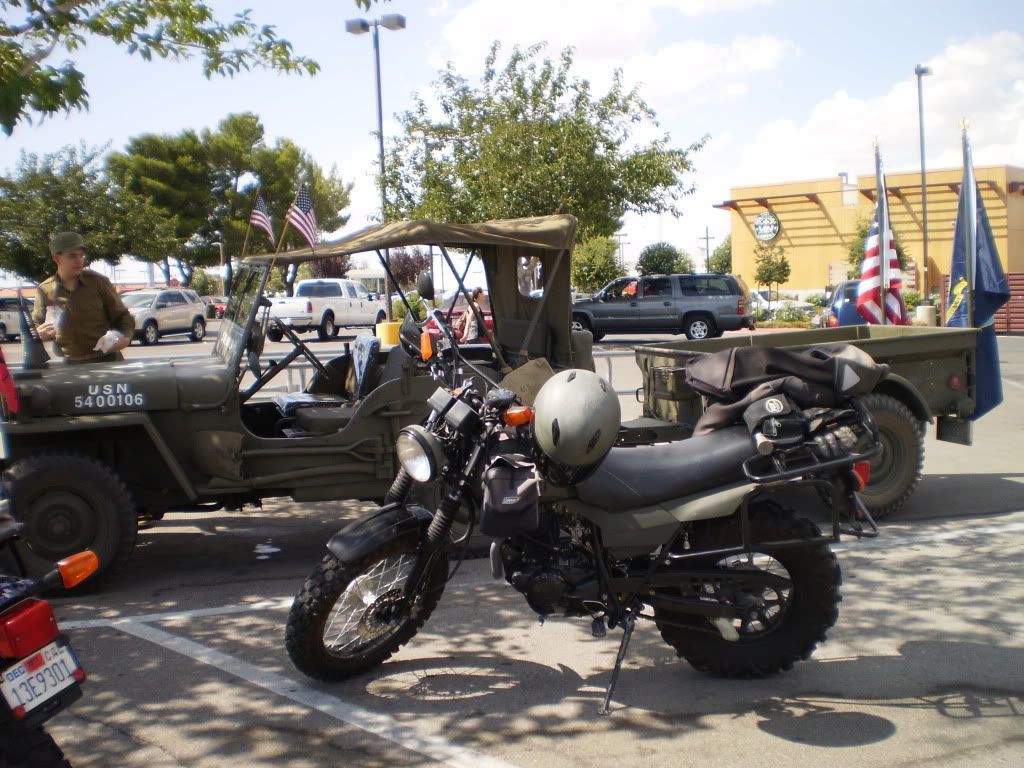 The couple who owned it had parked it in the Target parking lot, allowing passersby full access. "Got a camera? Throw them kids in the Jeep. All 20 of 'em. Mom and Dad, jump up front and we'll take a pic of the whole crew". Not here representing any organization or cause, just two folks out on their own wih something really cool to share with strangers. This rig was absolutely a period-correct example of Ford manufacture, equipped with a siren and the pintle hook tandem towbar arrangement which permitted 8+wheel-drive when two or more Jeeps were coupled together in the field. The owner builds exact reproductions of the towbars. Their young friend, Dillon is a history buff and tags along as docent for the rolling history lesson.
We talked for a bit. My father was one of the last mounted cavalry recruits out of Ft. Riley, Kansas. That's right, he rode a horse in WW2 for Uncle Sam's Army. By WW2 very few mounted soldiers remained, so his military service is somewhat unique.
He also nearly died in a Jeep like this. Bringing up the rear in a convoy under whiteout conditions near the Austrian border, he had an alergic reaction to penicillin. Knowing full well that it might be days before he would be found under these conditions he crawled under the running Jeep to take advantage of the shelter and engine heat, and prepared to die.
Days later he awoke in an Army field hospital. His uniform had been cut from his swolen body, eyes and mouth swolen and stuck closed, but he was alive. He was 14 years old.
As it turns out the couple also had an interesting sideline to their military vehicle hobby in that they travel the country in an effort to collect and document the stories of vets such as my father, of all eras of service in written form, in the person's own hand, where possible. Ten minutes later we were leading a 35 mph convoy to my parents house, 20 miles away. They declared that my father was someone they needed to meet and decided to take their "Big Book of Stories" directly to him.
The balance of the day was spent with my father answering their questions and being afforded the opportunity to write out his own unique story in his own words for their book and a photo-op of him sitting behind the wheel of a military Jeep for the first time in over 64 years.
Here's to lead-acid batteries, motorcycles, old soldiers and the extraordinary stories hidden within ordinary people who sometimes sit on bus benches, speak broken English and never get asked.
It's 3 a.m. and I hope this doesn't look like total gibberish tomorrow. LOL. Damned good 9/11 for us.