Discussion Starter
·
#1
·
so i went trail riding around my property yesterday, i live on a old mining claim in tombstone arizona and there are abondoned mine tunnels and shafts all over the place for about a 30 mile radius. the good thing is that the old miners carved thousands of permanent trails in the desert with their hauling rock and all. so to me i really have a trail riding adventure right in my backyard. there are tunnels that go down farther than you can see... in the summer they are infested with rattle snakes but in the winter they are pretty good to explore bc the snakes are in hibernation. ive been about a mile into one of these massive tunnels and i tell you it is a beatiful. apart from dead animal bones and the fear of the tunnel collasping on you! the trails also have alot of loose rock and sand washes that you manuveur through, making it a really nice ride, that takes a bit of skill...but anyway here are some quick photos i took. sorry if they arent as good as i wish the wouldve been.
heres my tw with some awsome mining trails in the background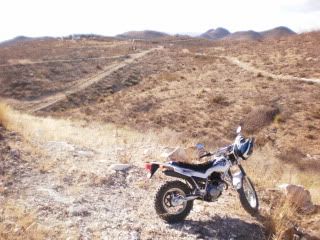 the tw infront of a old mining tunnel entrance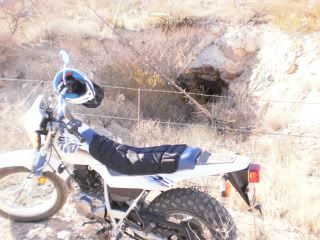 the tw again ontop of a massive mining tunnel entrance... look at the size of that hole!
heres the tw in a sand wash! the wall behind it was completly carved by running water in the rainy season
the sand in the wash was pretty loose! i rode through it with ease but it was pretty much down to the swingarm all the way through it.
here it is again with some really cool background!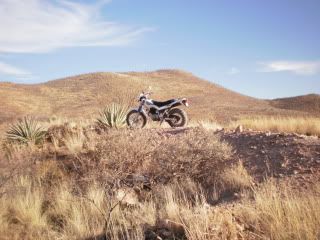 heres a deer i saw! it was in a pack of 5 but i could only catch a pic of one of them... those damn deer are fast!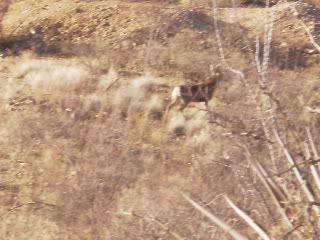 !
heres the bike with some old rusty mining equipment! looks like a pickaxe a water holder and a refrigerator/generator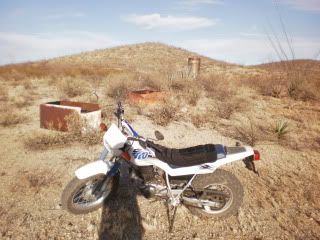 hweres the tw ontop of a hill it conqured! i got it up to around 15 mph and used the momentum to climb it. i almost stalled at the peak but the old tw pulled through!
well here they are! tell me what you think!