Discussion Starter
•
#1
•
Hi guys, I've actually gotten to do a little riding on my TW lately, though I've been bad about posting ride reports about them so I'm going to try and fix that. Here's some pics and a short write-up of a ride I took today in the foothills near the town of Anza. Enjoy!
I own some un-developed property on the outskirts of the small town of Anza and have been wanting to take a drive out to check on it (before today I hadn't been out there in a year and a half) however it looked like it was going to be a perfect day for riding (it was!) So rather than just driving out there and back, I loaded what has lately become our traveling TW (three weeks ago my wife rode it all over Moab, UT, I'll post a ride report about that trip in a day or so) into the back of my trusty Toyota P/U and headed-out! The TW I normally ride is out-of-service until I change a leaking fork seal so it's been missing-out on the fun. This was this bikes third trip in three weeks. It's an '07 TW I bought about a year ago however I haven't set it up with a windshield or a rear rack like my other bikes so I'm limited on how much gear I can bring. It also has hand guards and wider handle bars which I'm starting to like.
Anyways I parked my truck in the back of a parking lot of a bank in the center of Anza and un-loaded (no picture, just picture a casually-dressed guy trying to un-load a TW without it falling on him). After securing my truck and gearing-up (well, not really I typically ride in Levi's and a riding jersey though today I traded the jersey for a hoodie I had in the truck, it was chilly!) I headed-up Burnt Valley Rd on the east-side of town to check-out how things are where my property is. Ten minutes later I was parked on a hill checking it out (no changes, it's still there and the neighbors are no longer dumping trash on it following a chat I had with one of them following my last visit).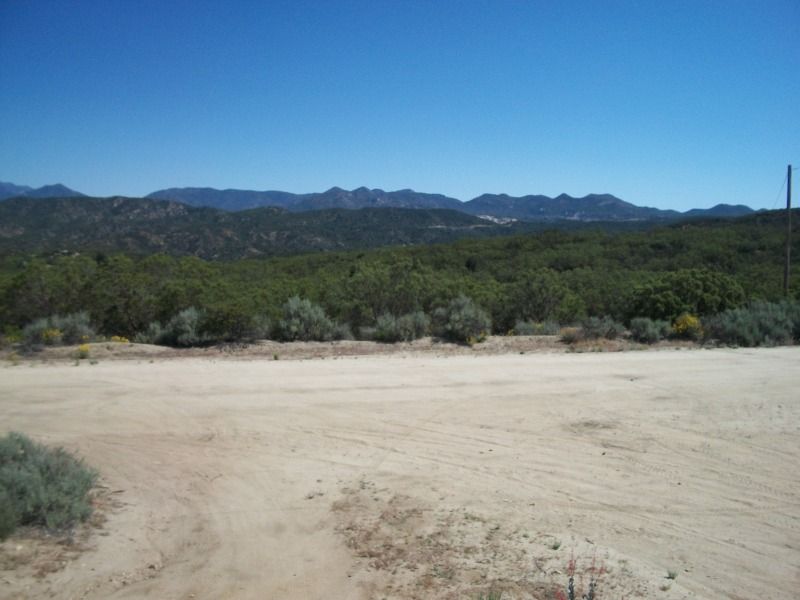 Manzanita bushes as far as the eye can see! Very green up here, the area obviously got a lot of rain last winter, trails which lead across the property were washed-out in places.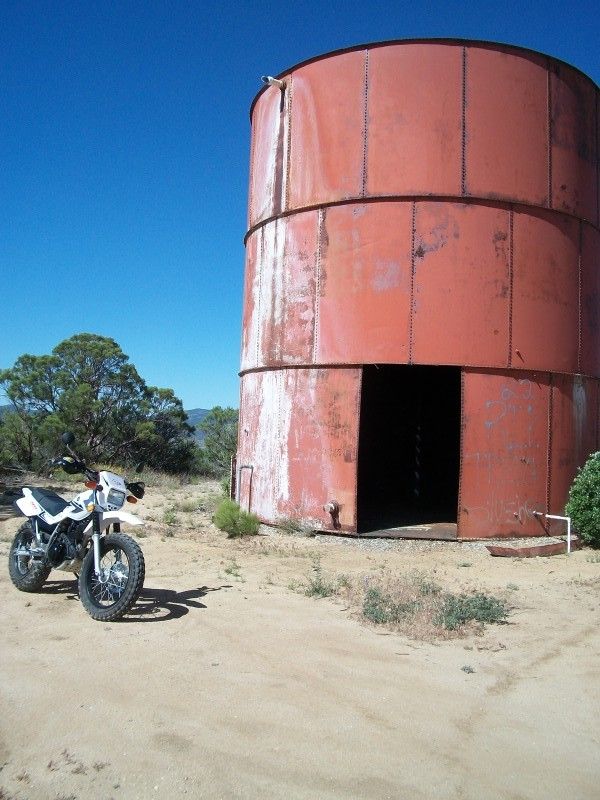 A long-abandoned water tank on a piece of land adjacent to mine.
My wife says we need more pictures for the walls in our house. Here you go sweetie! LOL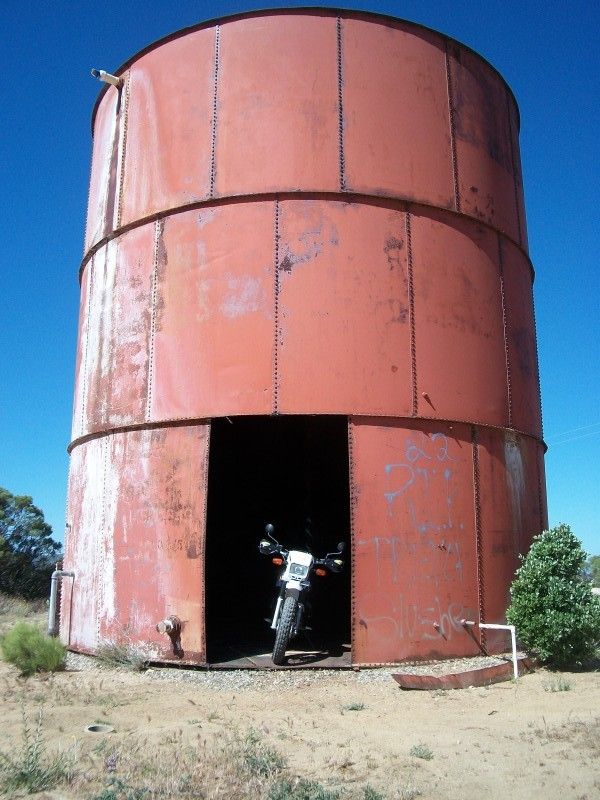 Oh like any of you wouldn't have posed your bikes for the same shot! Wish I could have found a way to stand the bike-up so it wasn't on it's side-stand.
There is a road in this area known as Table Mountain Truck Trail which on the map I looked like it would be a sporting trail and would connect to another trail I'd been wanting to check-out which would loop me back around to town so my next stop was to ride about a mile to where the trail started. However I soon was greeted by a series of 'No Trespassing' signs and gates. It seems Table Mountain Truck Trail is a hiking and equestrian trail which connects to the Pacific Crest Trail, both of which are closed to motorized vehicles. The map I'd been using was sitting 100 miles away at home on my desk and I wasn't confident I could find the second trail on my own so I turned around and headed back to town to my next destination which was on the opposite side of town.
No pic, just imagine a series of gates with 'No Trespassing' signs on them and a casual TW rider using a stick to draw in the dirt trying to duplicate a map he'd forgotten at home.
After a nervous ride at 60 down Highway 371 for five miles or so (my tires were half-flat since I'd planned on spending much of my day in the dirt) I arrived at Cary Rd and began making my way to the Red Mountain Fire Lookout.
I'm a big fan of Fire look-out's. There are seven of them in my local mountains, before today I'd been to five of them.
Cary Rd is a paved country road which eventually turns into Tripp Flatts Rd. which then takes you by an un-named dirt road with a faded sign which lists the site of an abandoned fire station (I'm guessing it wasn't abandoned when the sign was installed many years ago but I digress) and a couple of trails but does not list the fire look-out however the fuzzy memory of the map I had been studying at home the night before told me this was the way! It also told me that next time go to bed earlier and put the map I need with my gear but who cares about any of that.
Big surprise, no pic of the sign. I had an imaginary schedule I was trying to keep to.
This road drops you at the site of a torn-down rural Fire Station then turns onto an actual signed forest route (FS7S04 & FS6S22). 6S22 was the road which, according to the scrap piece of paper I'd written notes on the night before and had brought with me, connected to the Fire Look-out. I grabbed second gear and hit the trail!
This trail was awesome! I've only been riding on two wheels for five years or so (I still fall over and cuss a fair bit whenever I have to ride through rocks or sand) but the surface of the trail was just what I love to ride; hard-pack dirt with no rocks, a minimum of sandy sections and very few wash-out's! The best part was there was next to no traffic on this trail on this day (the whole time I was on it I saw one guy on a faster dual-sport and a couple in a stock Dodge P/U) which also meant no dust! I was so excited I stopped and took a picture of the surrounding mountain range.
I think that's where Idywyld is. Or maybe it's not whatever I think that it's in that general direction. Really should have brought a map.
This dirt road hits a couple of forks (stay on FS6S22) and if you're going all the way to the fire look-out you will be on it for a total of 15 miles (one-way) but don't waste your time looking for signs leading you to the Fire Look-out, there aren't any!
Finally (it took a while because since I was riding alone with only my Spot beacon I stayed in second gear and rarely went-over half-throttle) I arrived at a locked gate leading to the Fire Look-out! Turns-out they weren't open today. The Look-out's are staffed mainly by volunteer's so if they don't have enough people to staff a particular look-out, it stays closed. Of the ones I've been to this one seems to to be visited rarely.
Un-deterred by a silly gate (it's not like it was the first one I'd seen on this day) I secured my TW and set-off on foot to hike to the Look-out!
So I made it a mile. By this time it was getting warm, though I had water with me however I didn't want to be gone too long from my bike which was parked under a tree or my truck which was parked 20 miles away in-town so I snapped this picture of the look-out using the super-zoom feature of my crappy digital camera.
For those of you just skimming this ride report (I don't blame you) if you look close you can see me waving from the deck of the look-out (not!)
I drank a bottle of water, re-thought my decision to wear a hoodie as opposed to a riding jersey (was it really that cold when I left the truck earlier?) Then I re-mounted my TW and headed back-down FS6S22 headed towards town.
The ride back was un-eventful though it is where I was passed by the guy on the dirt bike (he waved, I waved back then almost crashed).
I arrived back at my truck, loaded my TW and headed home happy to have been able to spend a beautiful So.Cal. day riding (what in my mind was) a perfect trail! Total miles on the TW was 45.
You still reading? Cool, so on the way home the odometer on my truck hit 144,444 miles which because it's old isn't digital so I took a picture of it. I'm easily impressed.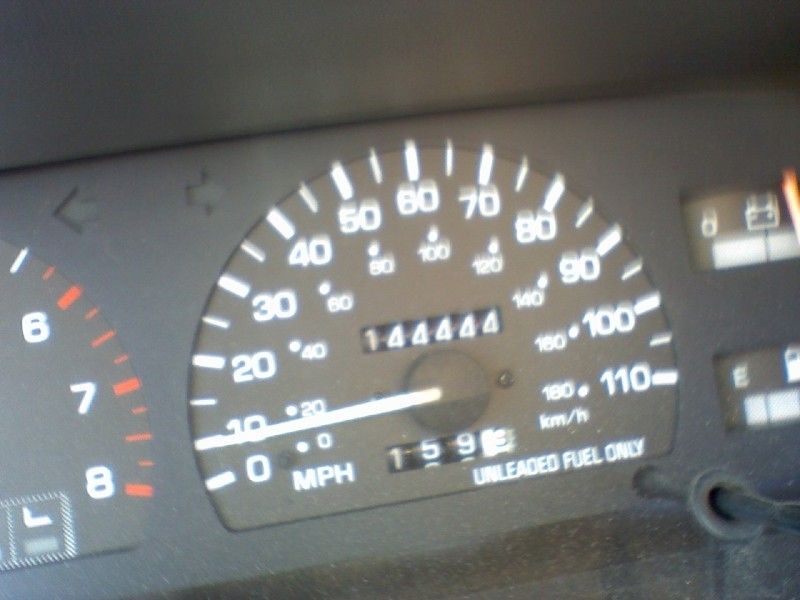 Things to do while you're stuck in traffic. Sorry it's upside-down.
Hope you enjoyed the report, sorry for the rambling. When I get the pics from my wife's camera I'll do a ride report for my wife's recent trip on this same TW through Moab, Ut.
Kevin
'04 TW - Jimbo Shield, stock rack, Ricochet skid plate, IMS Pegs & worn tires - Her's
'04 TW - Jimbo Shield, re-geared, stock rack, Ricochet skid plate, IMS pegs - Mine
'07 TW - Renthal bars, bark buster's, wide pegs, Baja Designs tailight - Ours