Discussion Starter
•
#1
•
I've been looking for a pair of armored pants that I can wear in the summer time and not die of heat stroke. Seems easy to do, but living in this area means summers are often brutally humid. I've already had heat exhaustion - avoiding it again is a good thing, and moving air is a requirement. So with a little holiday gift money left, I decided to finally invest in a pair of adventure pants with a good reputation.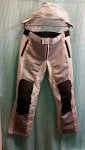 Rev'it's Airwave 2 pants seem to fit the bill.
So I bought the women's pants.
THE GOOD
They received glowing reviews from other users,
have armor in the knees and hips,
have large sections of mesh as well as solid slide panels,
come in a 'silver' color choice to help mitigate heat absorption,
AND! they not only come in different short, regular and long lengths,
but also come in women's cut!
Wow, that's a lot of goodness in one pair of pants.
THE BAD
Now, since I came on this forum, I've seriously injured my foot, stopped exercising, and gained about 25 pounds. But the Rev'it Airwave 2 pants came in a size 46, which is roughly an 16 in most women's pants cuts. They fit... barely. No problem, I need to lose a few inches anyway. But the tight fit wasn't as much of an issue as
the odd way the knee armor angled inwards
. Granted, I've not had the experience of an unplanned dismount where they would matter, but I would think armor should fit more on the OUTSIDE center of the knee to protect the kneecap from the road, not the bike? Seemed weird. So I took the armor out and tried to re-position it a little higher so it would sit properly. No luck.
On the chance the men's cut would fit better, I ordered a pair of them too, reasoning I could send back whichever pair fit worse.
THE UGLY
Like most sports apparel, there is a huge disparity between men's gear and women's gear. I should have expected this, but the truth is, I hoped motorcycle gear would be different.
First is the sizing.
While the women's pants come in 7 numbered sizes, European 34 - 46, the men's pants come in 9 alpha sizes, sm - 6xl. That doesn't seem like a big deal - it's only 2 more sizes, after all. But not really. Looking at the inch measurements provided, women's have only a 10" variation in waist sizes (25" to 35"), versus the men's which have a 23.2" variation (29.9" - 53.1")! The guys have twice the variety of sizes to choose from. It's like women aren't allowed to be protected once they stop being classically 'pretty'.

Size chart showing the women's selection on the left, versus the men's selection on the right.
Okay, so this is the typical skinny girl / beer belly syndrome. I've seen it before and don't mind ordering men's stuff for the fit.
And they did fit. Fit amazingly well. There's the typical gap at the waistline, but that's just a minor annoyance. The short version even put the armor where my knees naturally sit on the bike, which is amazing!
For that alone I love the way these fit.
Second is the protection.
This is the one that really killed me. Since I had both pairs of pants, I had the opportunity to really see the difference in armor between the men's and women's styles. Guys, this is so wrong on so many levels.

Profile view of the men's knee cup on the left, and women's knee cup on the right, matched at the top and sides.
Look at that glorious hunk of poly on the left! See that beefy knee cup! So much longer and thicker. Such a
manly
cup! It was not only 1 1/2" longer than the woman's but was twice as deep!
So all innuendo aside, guys, this is really important.
Women deserve to be protected equally as much as guys.
Whether we are riding solo or riding as a passenger, we hit the ground just as hard, will break just as easily, and bleed just as badly. This kind of fashion over function BS is stupid, downright dangerous, and should never be encouraged. If you ever buy gear for your girl, check the armor! And don't expect to be able to upgrade to good armor in the women's cut either - the holding pockets may be too small. I never would have understood the difference between the armor used in each if I hadn't had the chance to do a one-for-one comparison like this.
CONCLUSION
So did I keep the pants? Yes - the men's pants. They have a ton of "The Good" points, put the knee armor in the right place, and fit fairly well.
Would i recommend them to others? Well, I haven't had an opportunity to ride in the summer yet, but, Yes - with a couple of caveats:
If you're a guy looking for some great summer mesh pants - Buy Rev'its Airwave 2 pants.
If you're a woman looking for some great summer mesh pants - Buy Rev'its MEN'S Airwave 2 pants.