Ricochet Skid Plate Sound Dampener (my solution, tested and works 98% of resonant sounds stopped)
Required:
1) 2" x 1-1/2" x 3/16" medium hardness rubber pad or equivalent,
I used rubber mounting pad from Samsung Solid State Drive (SSD) mounting kit.
2) .357" punch
3) Hammer
4) Sharp knife
5) Ruler
6) Pencil or marker
Instructions: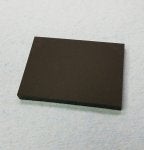 Take rubber pad above and trace out two 1" x 1" squares
Cut out squares using sharp knife or scissors and retrieve your punch
Using hammer and a piece of wood punch center holes in rubber pads
Mount each rubber pad between Ricochet plate and left/right motor mount brackets
That's all folks! No more high pitched annoying sounds coming off your new skid plate...
(not sure how I attached the last two thumbnails but the editor won't let me get rid of them LOL)